In short, the answer is Yes.
If you ever came across such an incident where an international payment or a transaction is on-hold because you don't have any other payment transfer service other than skrill.
But no worries this article is to solve your complete problem regarding the money deposition to your skrill account through any Indian bank.
Which bank allows deposit in skrill from India?
There are many banks that now supports skrill but it is recommended to satisfy these conditions below before you are good to go-
Banks that support international transactions.
Debit cards except for Rupay and other accepted ones are mentioned here
In my case, I have been using skrill for more than a year and without any complexities. I am using a Union bank attached to my skrill account.
Where can I use skrill for?
In the meantime, you use skrill account for non-gambling sites and the gambling is allowed outside India.
It is noticed that you cannot use your Indian cards for gambling purposes to create a skrill account.
And if you try to use the skrill account for gambling, your bank will track you to up to cancel your bank account, and also skrill will restrict you from transacting into gambling sites.
Your Indian skrill account can only be used non-gambling purposes otherwise you may get into serious trouble.
What are some of the popular payment options to deposit money into a skrill account?
Credit Card
Debit Card
Neteller
Bitcoin
Bitcoin Cash
UPI
AstroPay Netbanking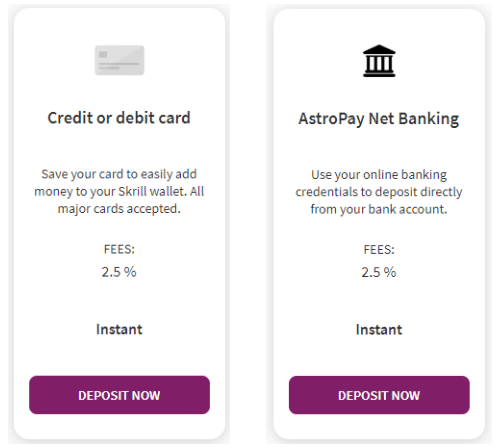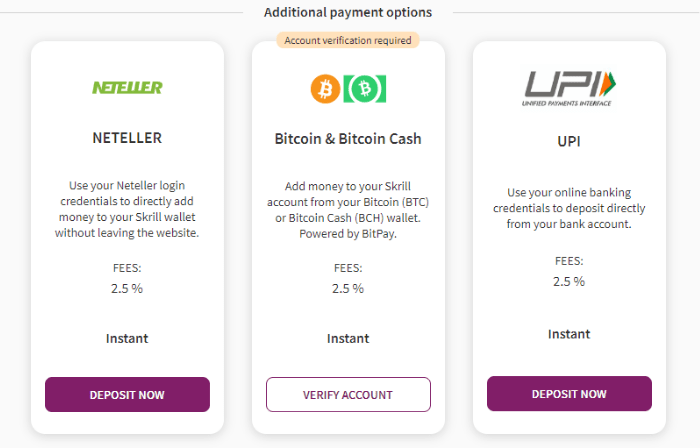 What is the minimum balance deposition in Skrill?
When it comes to skrill, I am impressed that it requires a minimum of 82Rs to deposit the amount into a skrill account and that's fantastic.
And when I tried to check what is the current minimum balance for Indians to deposit a minimum balance and entered 10Rs it shows up a statement saying "Enter an amount greater than INR 82".
Let me show you in the picture what it says-
In the case of Credit Card, Debit Card, UPI, Neteller, Bitcoin, and Astropay it's the same i.e 82Rs.
What are the charges levied by skrill?
Skrill operates on % on the actual money when you deposit or transfer i.e 2.5%. It actually costs you more when you exceed your money transfer but the bank transfer from skrill is free to use.
There are no other extra charges other than 2.5%. And let the picture is being snapped from the skrill account that clearly mentions the charges-

So if you deposit an amount of 100rs a 2.5% charge comes close to deduction of 2.5Rs which is a skrill charge.
How long does a Skrill deposition take?
This is the most asked question and the answer is it varies. But don't worry I can give you a rough idea from my experience including what Skrill says.
In the case of Credit/Debit Card deposition to the Skrill account, it transferred to my account almost instantly. Even with UPI, Neteller and AstroPay are the same. But in the case of Skrill, it states that they would transfer the funds no more than 20 minutes.
Actually, in all of the payment methods, it depends upon your bank's server…
Does Skrill accept my Card?
Yes, if you meet the certain criteria with Skrill then they say you are good to go.
Skrill supports popular international and local card types: AMEX, VISA, Mastercard®, JCB, Diners, Maestro, Laser, Carte Bleue, CartaSi, Postepay, though some have limited availability, depending on your country of residence.

support.skrill.com
But look carefully at the statement they have not mentioned anything about Rupay Cards. I have a Visa so there was no problem regarding my registration.
Do I need to verify my skrill account before transferring money through skrill?
Yes, but in only in Skrill money transfer option which sends money directly to the sender's bank account but ask for these sender's documents below to transfer online-
Driver's License OR
Identity Card OR
Passport Card
Here is the screenshot below that asks for it-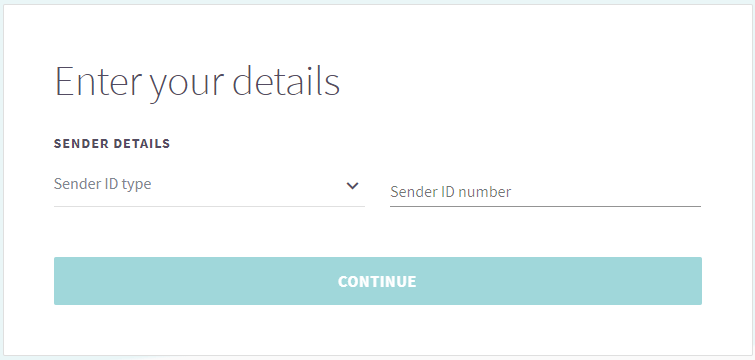 But in the case of Skrill to skrill transfer, you can only send money up to 36Rs at a time if you don't verify your account. Here I am attaching that screenshot below to make you sure.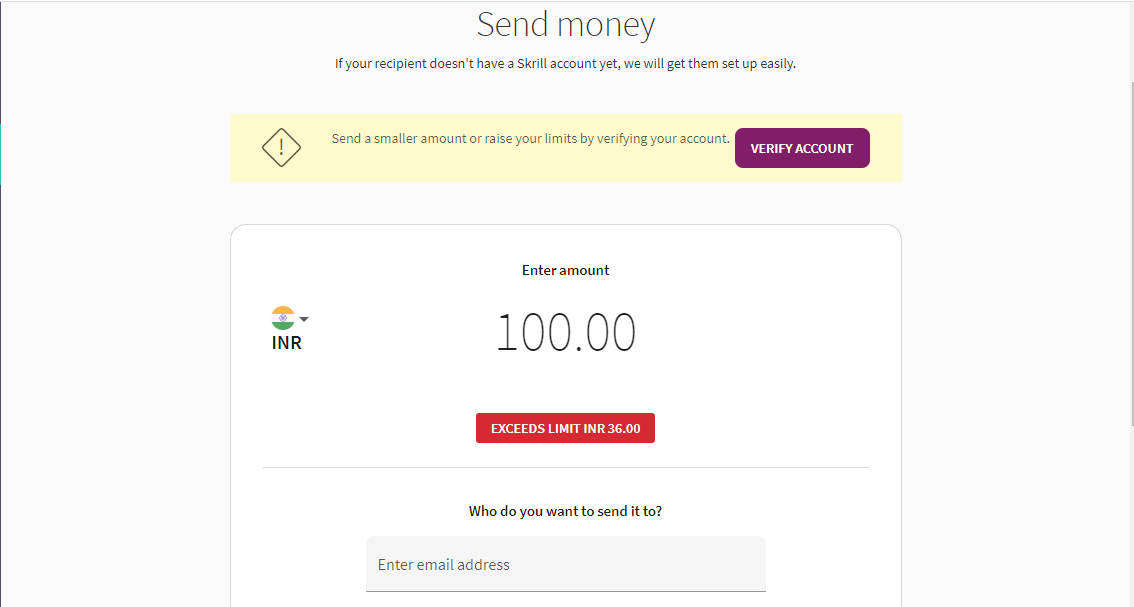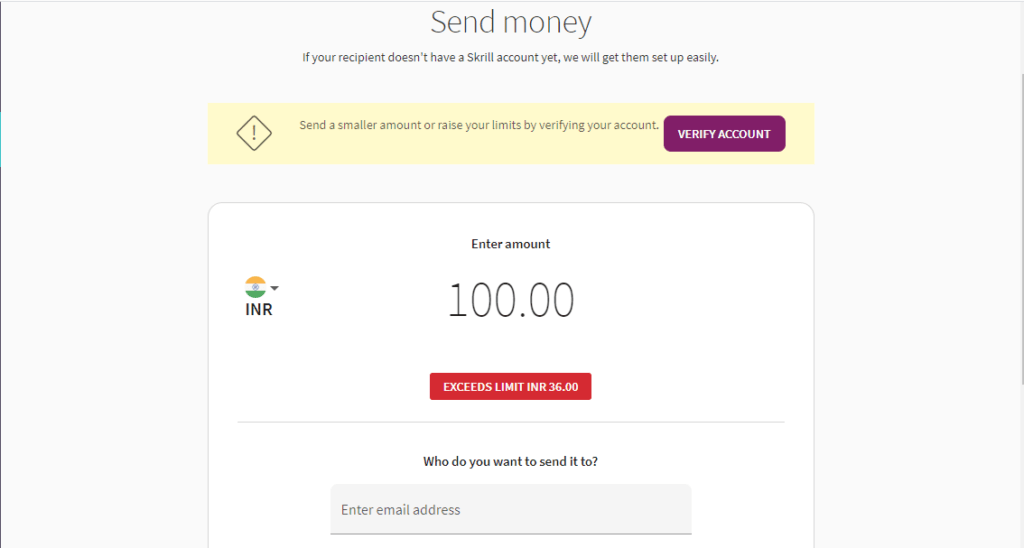 The above screenshot shows the limit of an unverified account.
What is the minimum amount to transfer money through skrill?
The answer is 165Rs. However, it is only possible in skrill to transfer option, if you have an unverified account and it's not worth reading this if I don't have any evidence to say so.
Again I am attaching a screenshot below to prove my point because here in BanksForYou nothing is fantasized.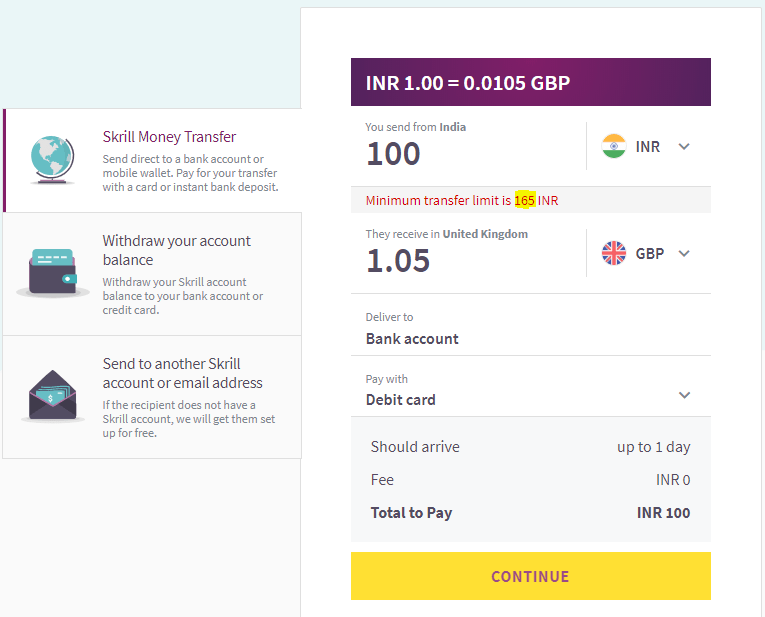 Here in skrill money transfer when I decided to send 100Rs it shows me this "Minimum transfer limit is 165 INR" which clearly shows us the transfer limit.
What are the money withdrawing methods in skrill?
Unfortunately, there is only one method to withdraw i.e Bank Account and this transfer may take upto 2 days from the date of issuing.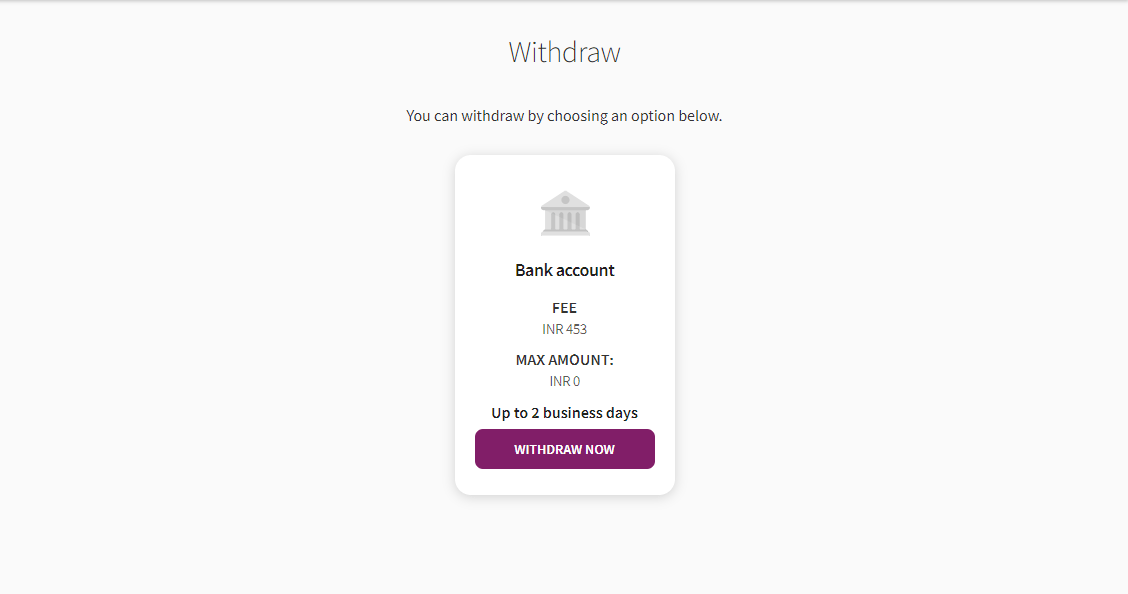 But there's a catch if your account is unverified you cannot withdraw a single rupee from your skrill account to your bank. And a screenshot is attached below to show you that.