Enabling international transactions is a headache when it comes to shopping internationally. Many of you might argue that a forex card can replace this service and however, costs less in comparison to this service.
So, after so many negativities, why this is the only option people chose and that is simplicity and the safety of using this service.
As per Andra Bank's about us, Andra ranks in 458th position among the world's best 1000 banks (2012 report).
Now activate the international transactions using net-banking services
If you're going to visit the branch take your passbook along with you and request the responsible bank authorities to enable the international transactions on behalf of you along with any of your identifying documents Such as Id proof, Address proof, and the passbook.
Please note that there are no methods to activate international transactions other than visiting the branch personally.

Verified by Andra Bank
Q. Why these international transactions enabled cards are a must ?
There isn't any particular reason to chose or to have these services enabled. But say, you need a product that are only sold outside india, now here you have to face problem like the order gets cancelled at the checkout or the card refuses the transactions.
For example- A Forex card for $ can be purchased from a international site at a cheap price but you need to have a international enabled debit card to place that order and same goes for your purchases like buying a item/product from amazon.com instead of amazon.in.
Q. Why international transaction services aren't enabled while creating account ?
Not only me but probably the bank also doesn't have any full proof reason to explain why they don't enable that service while we create a net-banking account for the first time to avoid any future problems regarding this.
The possible reasons follow –
It's a bank's strategy is to provide them the extra layered security to keep a distance from international frauds.
This service isn't that necessary for everyone to opt-in for this and can be considered to be an extra service for those who use Indian POS and don't shop, internationally(outside India). Because nowadays domestics transactions are becoming more popular due to the fact, international companies are setting up their payment systems for Indians(i.e Rupay).
Also, the bank might have offered you a standard card as per your usage if not asked any other, however, many premium and platinum cards might have international service activated from the beginning.
Q. How can I get International debit cards from Andra Bank ?
A customer of Andra Bank can avail this service as it provides a prepaid card to its customers also can be called Travel Cards. These are highly secured and easily managed Cards and accepts over a larger amount of payment outlets.
These are best for the traveler because the fixed amount is deposited to this Card and if any ones get this you can able to disable this card.
Moreover, these cards don't need manual efforts to activate/enable international transactions and allows them to withdraw cash from international ATMs. To know more visit Andra Bank's website.
Q. Are there any charges for activating international transactions ?
There aren't any fees to be debited for the customers who activates it. Even RBI don't even mention about any charges.
Speaking of charges that are included but only after per transactions that you make to purchase from international stores outlets.
And also to note there isn't any annual extra charges for activating this service. Mentioning that debit card charges are charged according to the card type and by it's premium value.
Q. Are there any charges for international transactions in Andra Bank ?
Yes, as mentioned above there aren't any charges for having this service. But to use this service, there is one charge that is 2.50% / transactions let me elaborate this into a simple form.
Let us solve this by taking an example let's say you want to purchase a product that can any digital or physical which has a international outlet here your international transaction service is being used. So your product value becomes 2005.
Q. How to calculate the international transaction fee ?
Calculating the exact charge is necessary so as for any business or any individual to calculate the profit and the actual cost.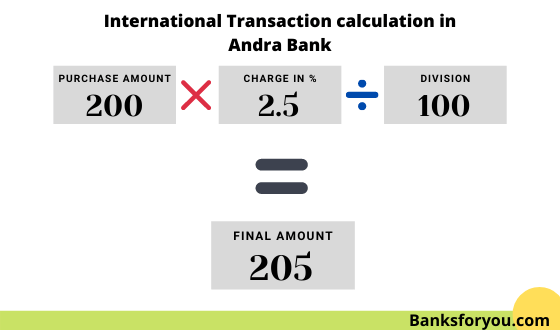 After figuring out the percentage it takes i.e 2.50%. By multiplying your purchase amount with 2.5(international charge) and dividing it with 100 to get the final amount at last.
The next thing is to mention that there are no annual charges for opting in to this service. Other than the transaction charges all are free to use.
Q. Is the GST free for these type of transactions ?
A GST is a goods and service tax that is levied on every type of product or service weather it's a digital or physical one.
The general or say a fixed GST is 18% all over India and as a transaction made by an Indian Bank it's necessary to comply with the Indian government policies.
This tax is applicable over both domestic or international transactions made and are passed over to the customer by the Debit card brand.
Q. Which Debit Card Brand is eligible for enabling international transaction ?
There are 3 debit card brands that are operating right now in India and two of them are international brand and the last one is Indian
Visa – Globally accepted debit cards
MasterCard – Reach over 210 countries worldwide
Rupay – Indian Debit Card for Indians
Now if you've the classic Rupay debit card as your ATM card, you might not able to activate international transactions in this type of card because of ineligibility.
However, it's a good news if you have MasterCard or Visa just a request away to activate.