First of All, we need to understand what is the full form of IFSC ? i.e. Indian Financial System Code and we will discuss more on IFSC on how and what is it, its structural breakdown, purpose, advantages, disadvantages, how to get IFSC.
Also we have discussed, about MICR in detail, its purpose, structure, use cases, Advantages, Disadvantages, working and FAQ's.
Understanding the IFSC Code System.
How many digits are there in IFSC code and why it is used?
IFSC codes have 11 digits alphanumeric code that are absolutely unique by nature. It is used to identify the bank's branches for RTGS, NEFT, UPI, IMPS and assigned by RBI to each branch of the bank that supports RTGS, NEFT,UPI and IMPS payment systems.
RBI also monitors the transactions for check for authenticity and smooth transactions between banks.
Breaking Down the IFSC Code Structure.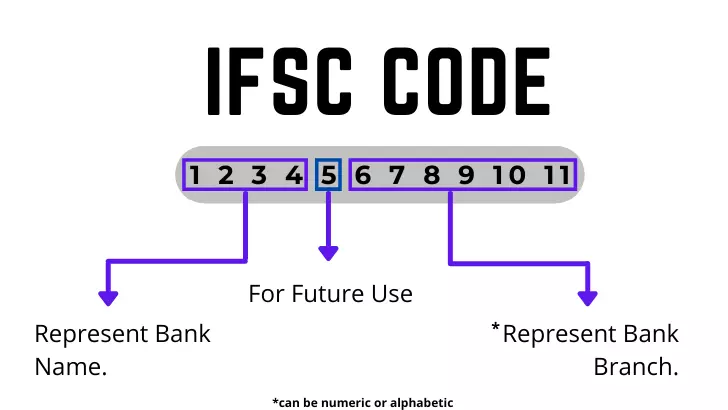 As we know IFSC has 11 digit code, let us take an example UTIB0000008 IFSC Code, this belongs to a private sector bank i.e Axis Bank which represents the bank name and the branch code.
The first 4 characters 'UTIB' represents the bank code or the bank name, in this case it is Axis Bank
The 5th character is always 0 and is reserved for future use.
The last 6 characters '000008' represents the branch code, in this case it is a Hyderabad Branch of Axis Bank.
What is the Purpose and usefulness of an IFSC Code ?
IFSC Code facilitates fund transfer between banks that participate in electronic payment transfer systems in India such as in RTGS, NEFT, UPI and IMPS
It also helps RBI and other Regulatory bodies to efficiently monitor and manage transactions processed between banks.
Here is the 8 benefits or Advantages of IFSC Codes in everyday life
Online Payment Transfer– It facilitates the online transfer of payments from one bank account to another without any hassles, fast and secure.
Accuracy – It ensures to exactly transfer the payment to the correct recipient and validates the beneficiary's account.
Speed – The payment is released and transferred within hours to the recipients bank.
Comfort – The privilege of transferring funds from the comfort of office or home would not have been possible if IFSC System was not developed.
Cost – IFSC System have made this process of funds transfer really cost effective than the traditional methods were used to be.
Digital India – It supports the Digital India initiative under the Indian Government, empowering society and economy.
Usability – IFSC's are used widely in India for electronic fund transfers methods like the NEFT, RTGS, UPI and IMPS.
Errors – Manual fund transfer requires manpower and reduces accuracy but in case of IFSC Code the rate is much lower or negligible as compared to manual transfer of funds. It directly identifies the specific branch by the last 6 digit code of the IFSC Code and 4 first digits represent the bank name.
How to find or get IFSC Code ?
IFSC Code is a unique 11 digit code provided by RBI, however, you can get this online and offline anywhere and I will discuss it separately in this article.
For Online you can easily select you bank name, your state, district and you current bank's branch location and you will get the IFSC Code.
Customers who want to check their IFSC Code Offline they can check their cheque book as well as their passbook. We will learn this step by step as we read.
Online Ways to find IFSC Code
Using 3rd Party Trusted Online website (Recommended)
There are many websites that provides IFSC Code, however we have a large database of our Inhouse IFSC Finder, Banksforyou IFSC Code Finder. We have over 1,300+ Banks, 35 States, 15,000+ Districts and Branches listed and 1,64,000+ bank's IFSC Codes so won't need to go anywhere else.
It's easy and no need for a direction but still if it's needed I will add the tutorial below and within a minute or two you can get your bank's IFSC Code for Free.
How to use Banksforyou IFSC Code Finder Tool ?
You will get to see this first screen of the IFSC Tool. Just select the first option Bank under the Select your Bank text.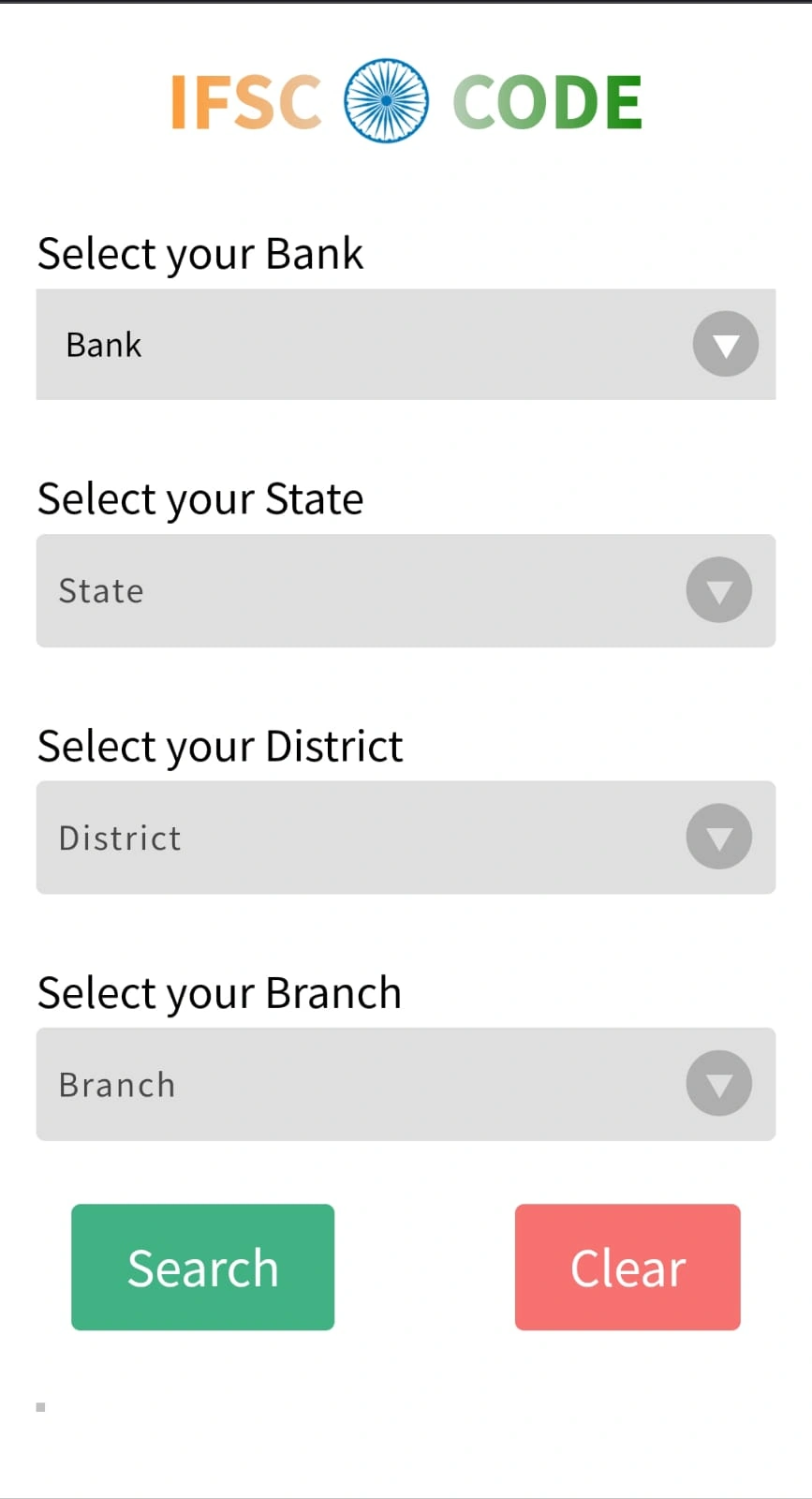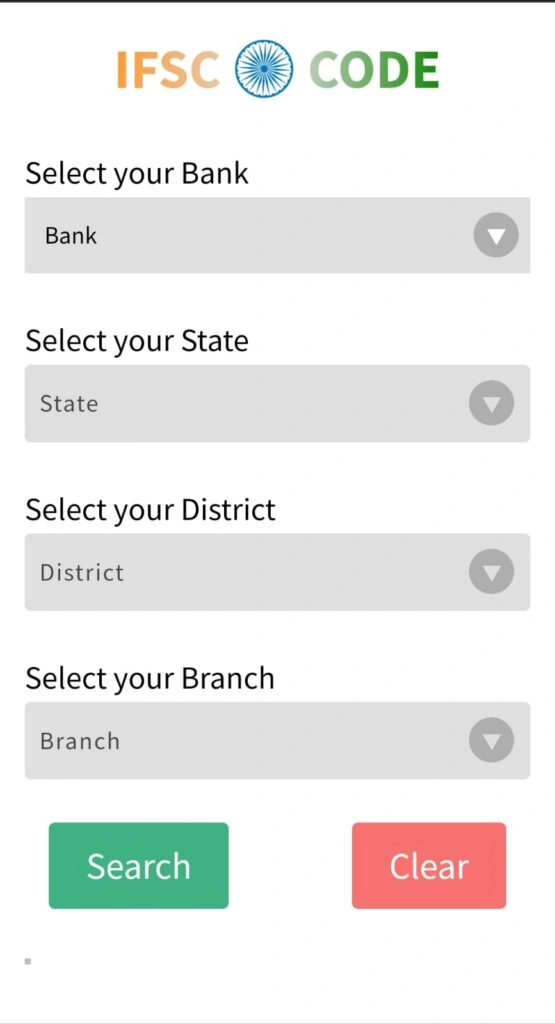 Now click on your Bank's Name from the list as shown below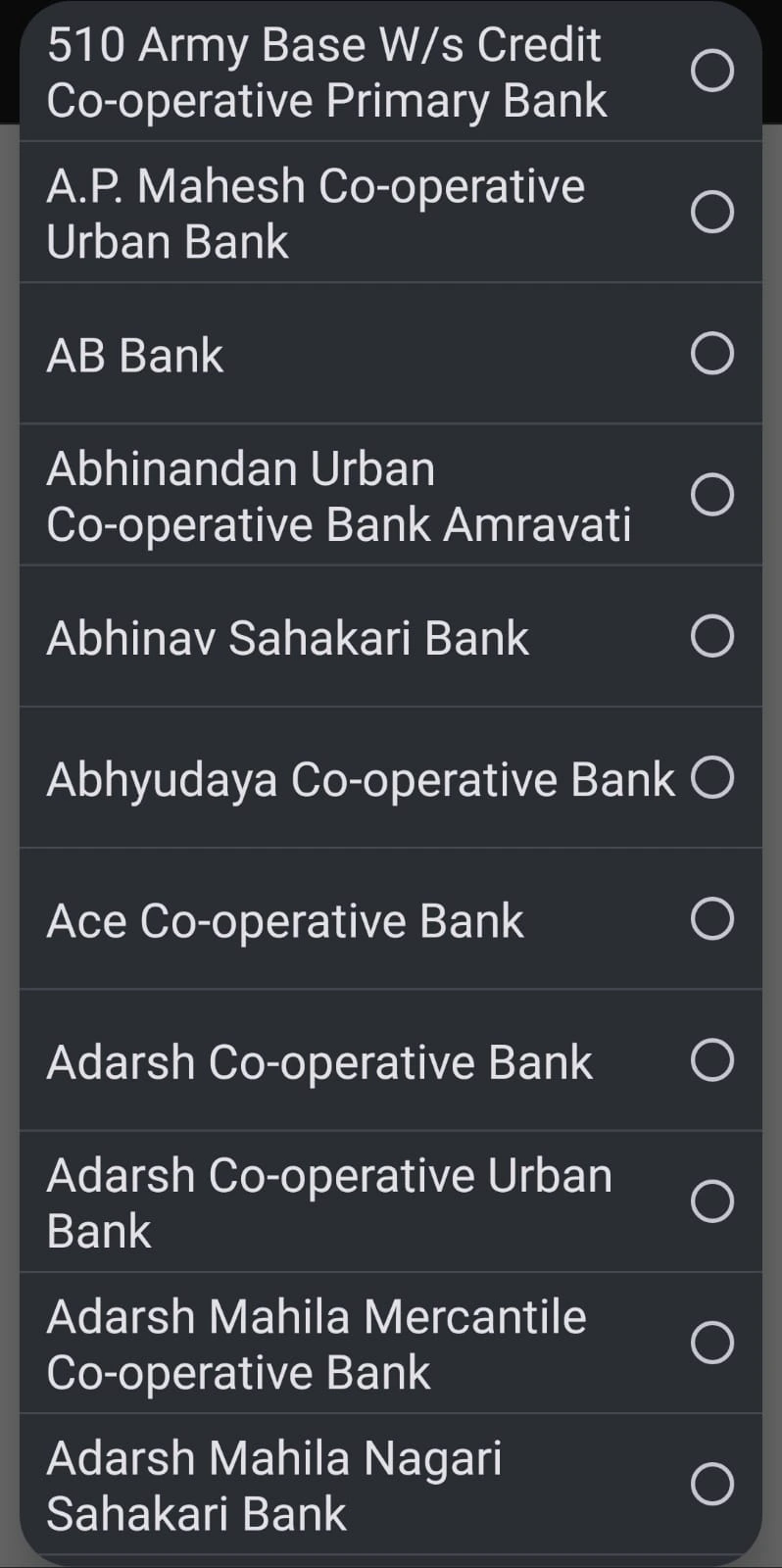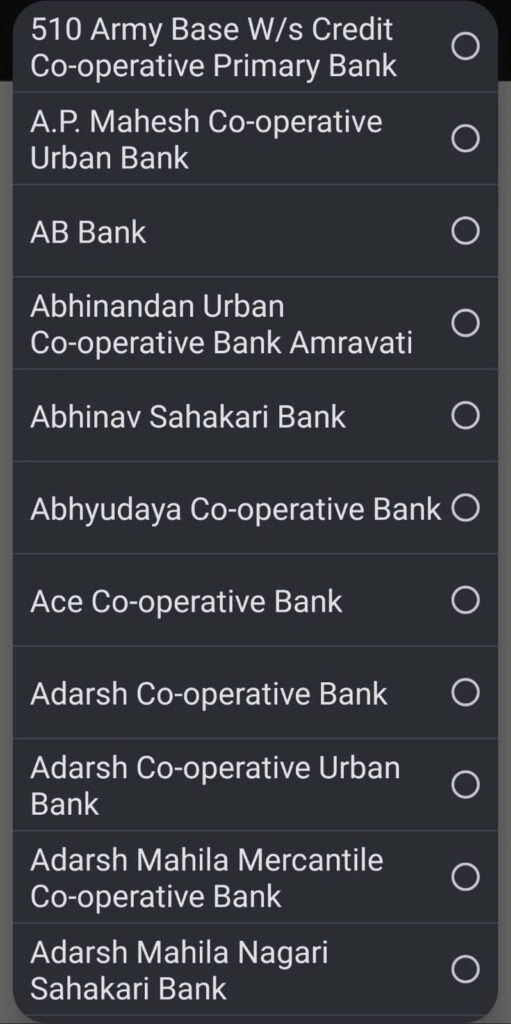 After clicking on the bank name you will be asked to select your State and as you proceed the next blocks will be color-ed green as shown in the below screenshot.
The red colored cross boxes lets you to go back and re-select you bank again. Search option shows the IFSC Code when you select all the bank name, state, district and your Branch.
The Clear button deletes all your selections from the start to the end and takes you back to the Page where you can select your Bank.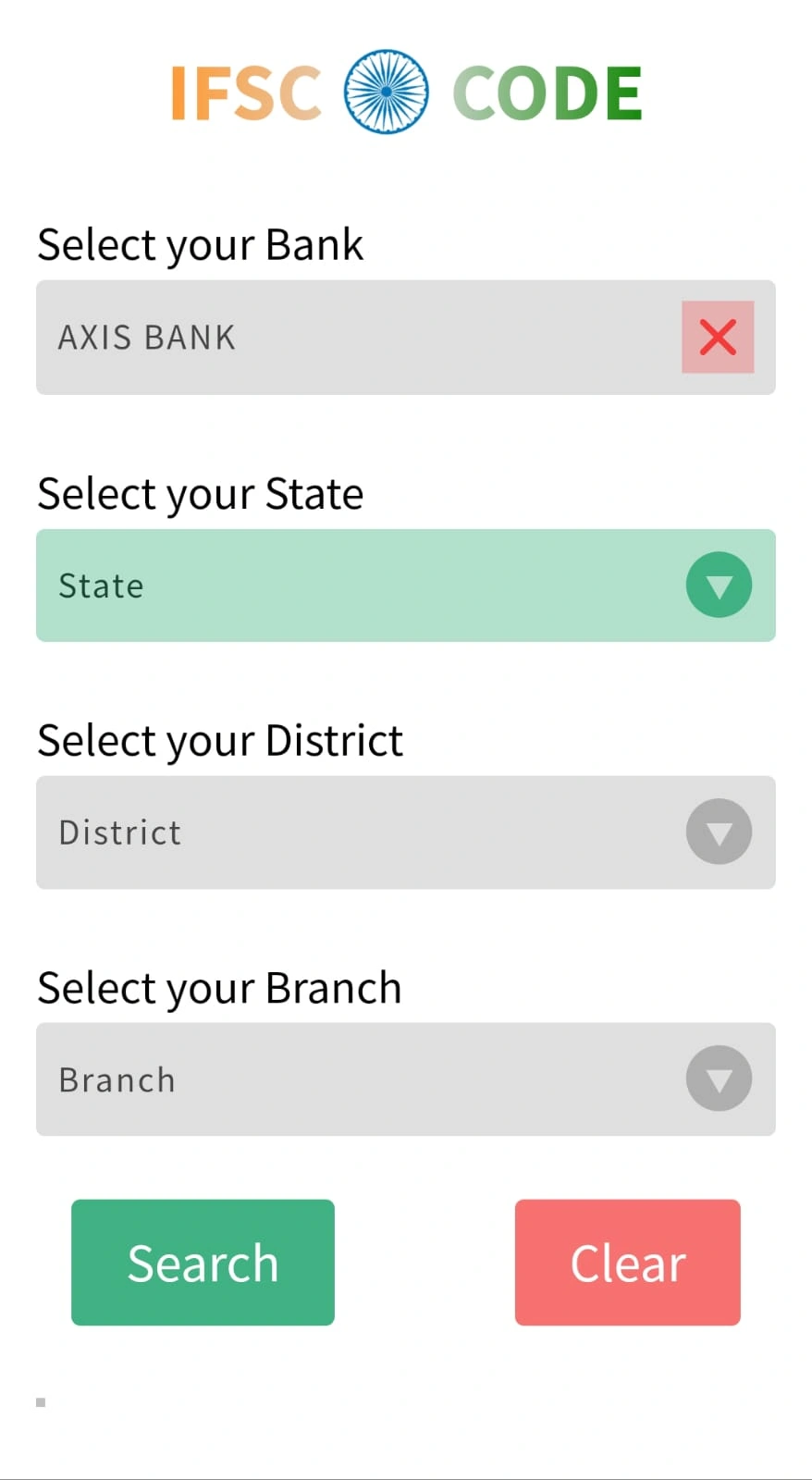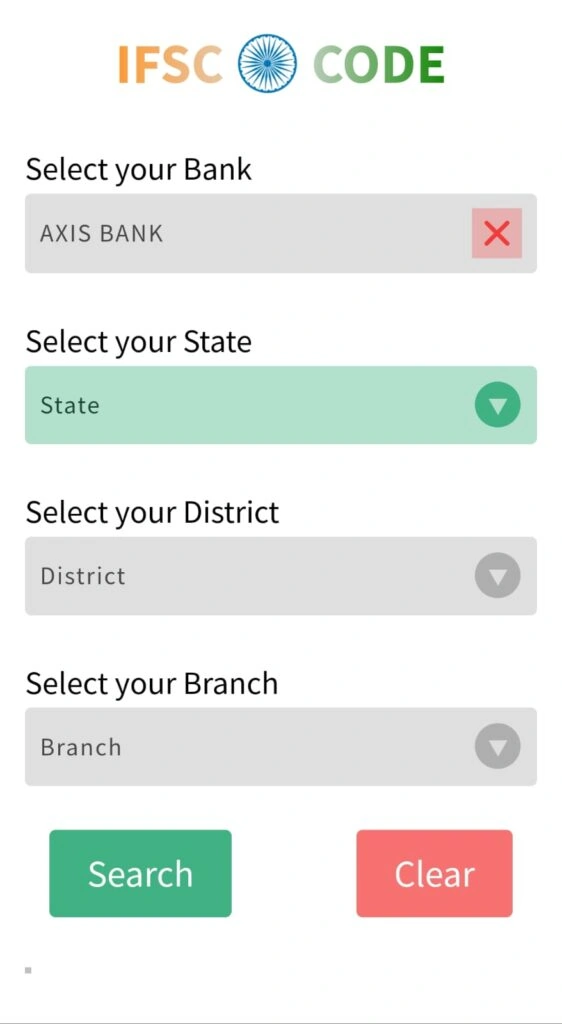 Pros
Latest IFSC Codes
Large Database of over 1,64,000 lakh+ bank's IFSC Codes
User Friendly
Provides Search, Copy and Send to Email feature
Provides IFSC Code, MICR Code, SWIFT Code, Bank Name, District, Branch, State, Address, Bank ISO and contact number
Cons
Need to select Bank Name, District, State and Branch to get IFSC Code
Finding IFSC Code using RBI's Website
You can also use RBI's official website to get the IFSC Codes as the picture shows below just need to select the bank followed by Branch Name and a list of bank branches will appear.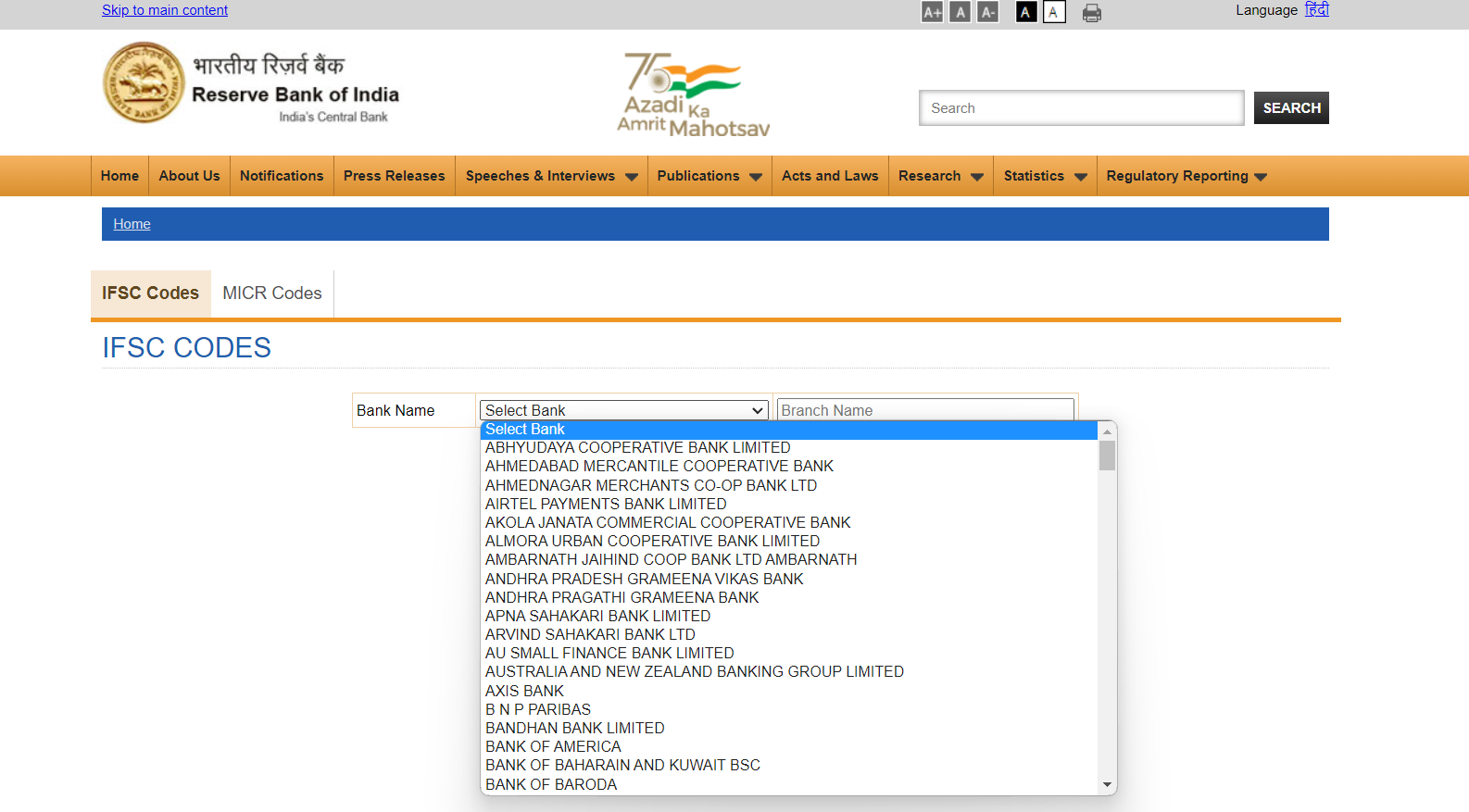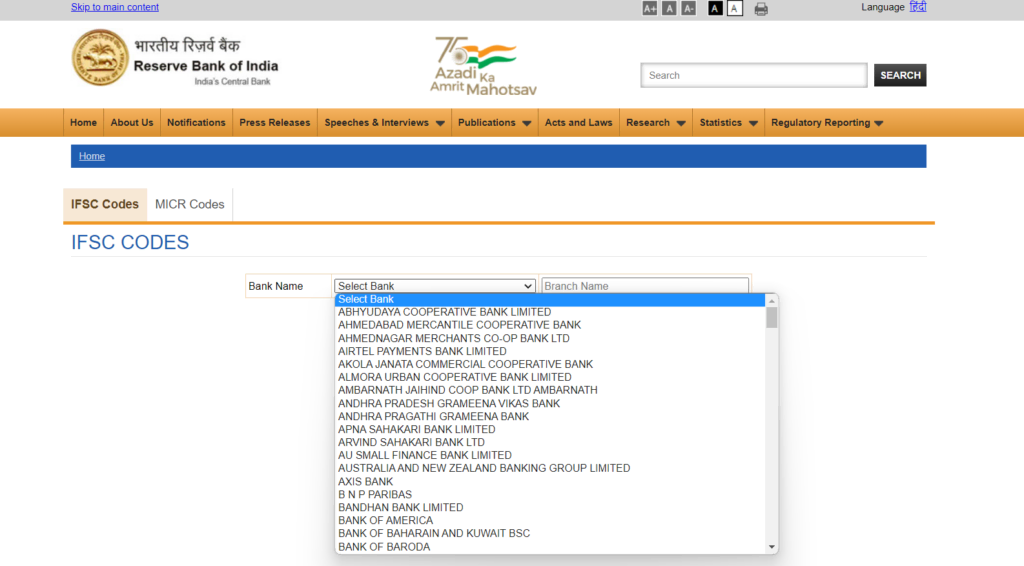 Then click any of the Bank branch after you enter Branch Name just like the below screenshot.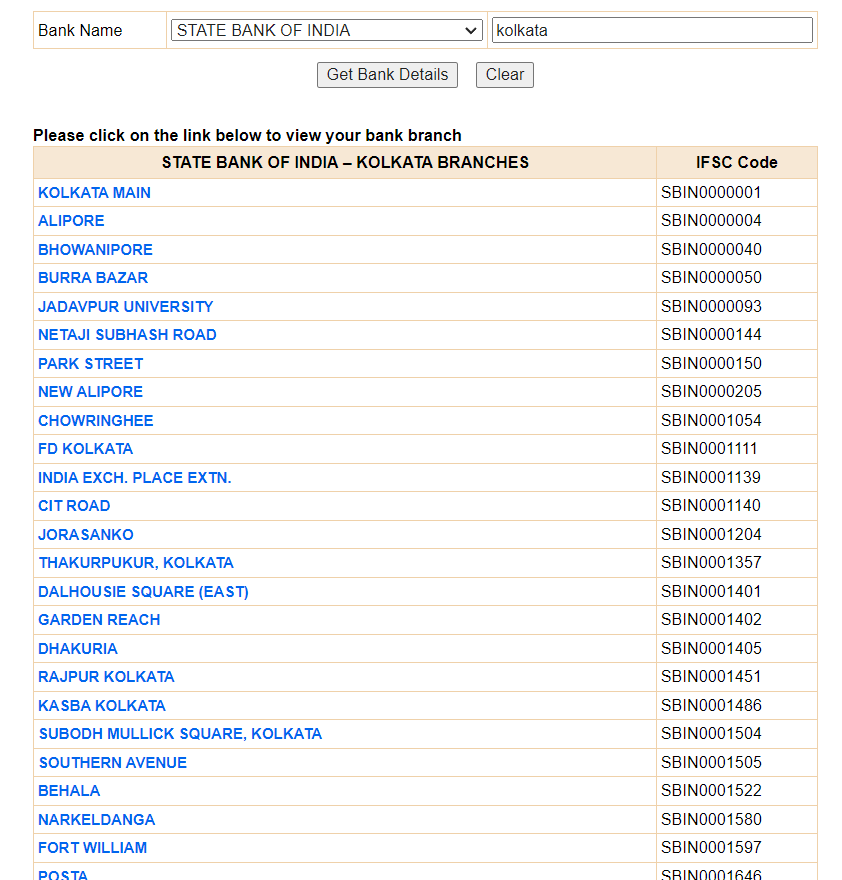 Pros
RBI's Official Site to check IFSC
Cons
User Experience is Bad
Need to manually type Branch Name
Website loads slow
Getting IFSC Code from Bank's Official Website
Even if you don't want to search from the above ways you can directly visit your bank's website to get the IFSC Code, however many bank sites don't have that data many a times if the bank's website isn't as popular as the other large banks so you can try using Banksforyou's IFSC Finder instead.
Let us take an example of Axis Bank to find their branch's IFSC Code from their official Site.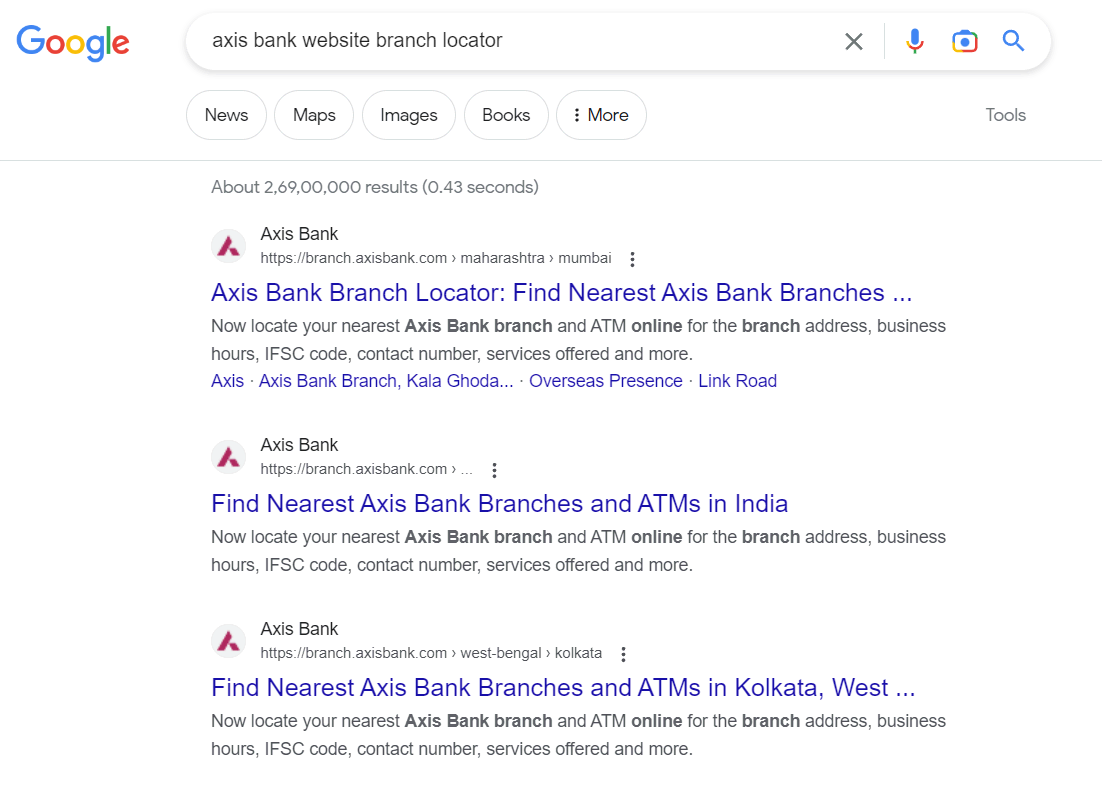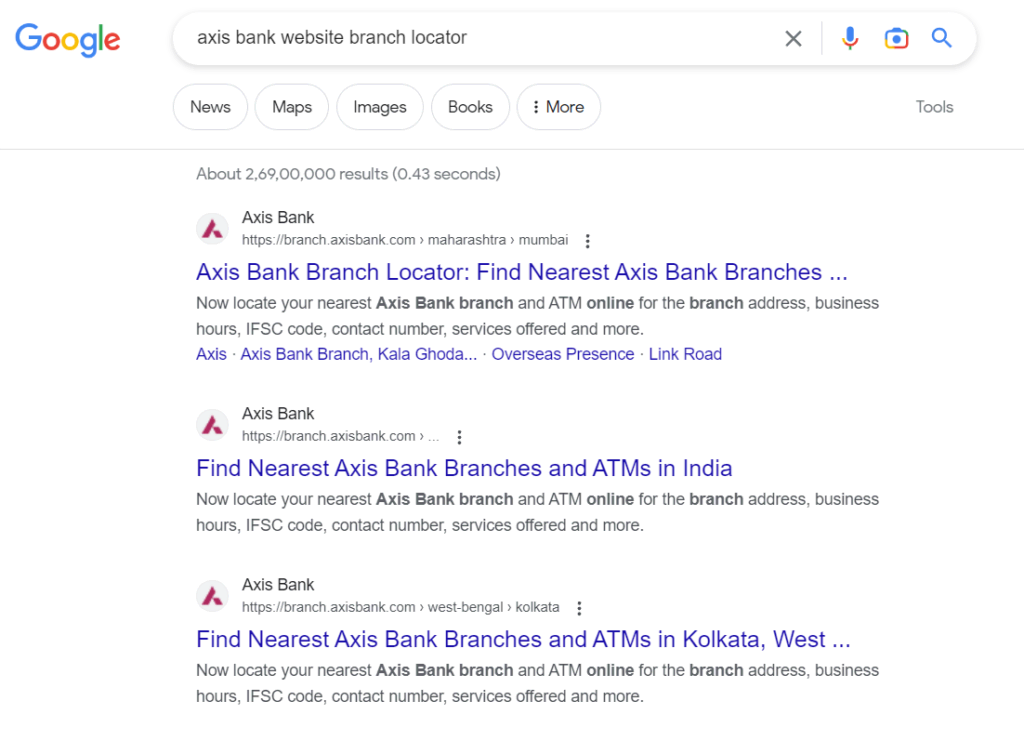 Enter your Branch location or your city and you will get a list of IFSC Codes as shown in the below screenshot.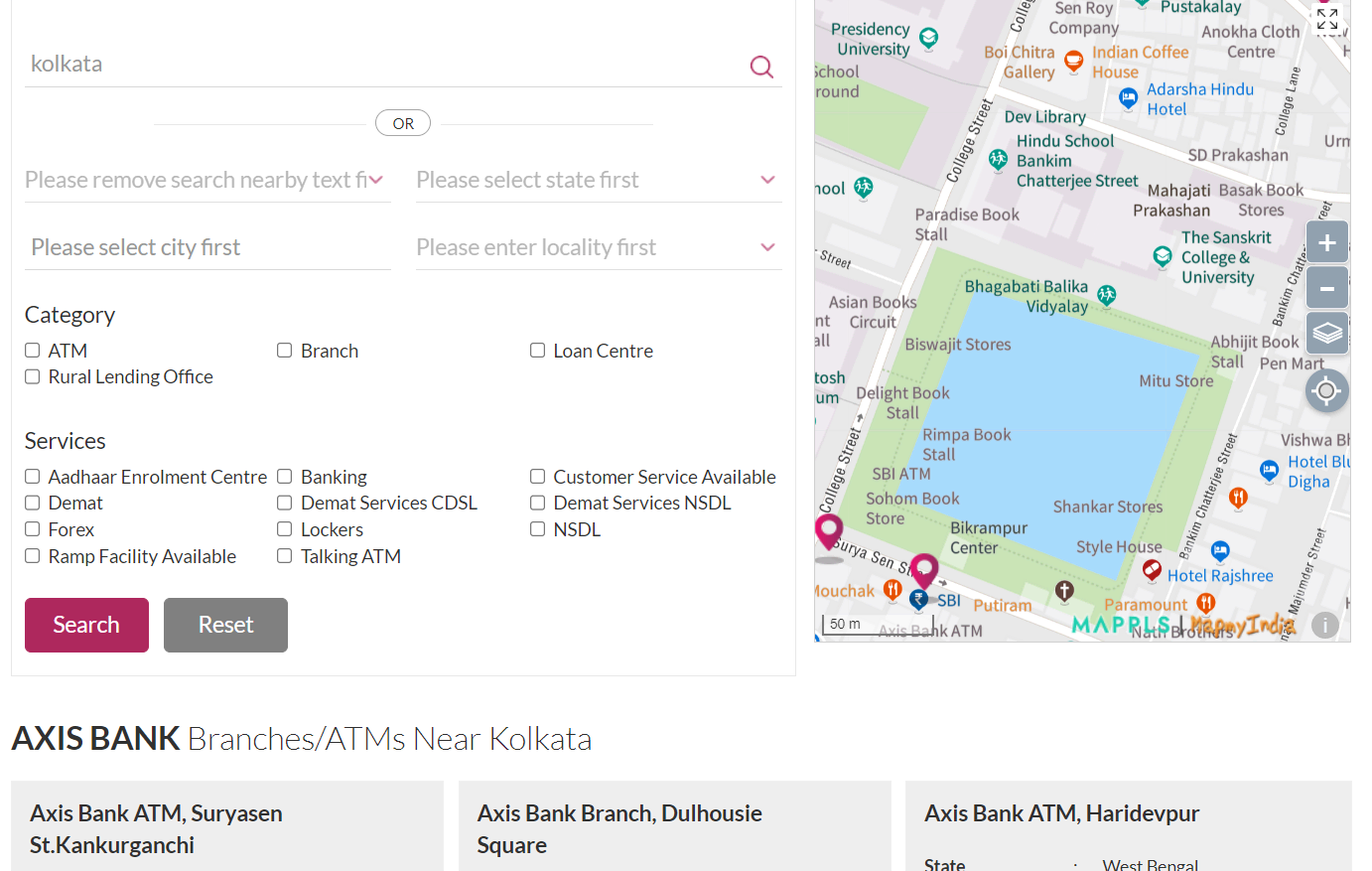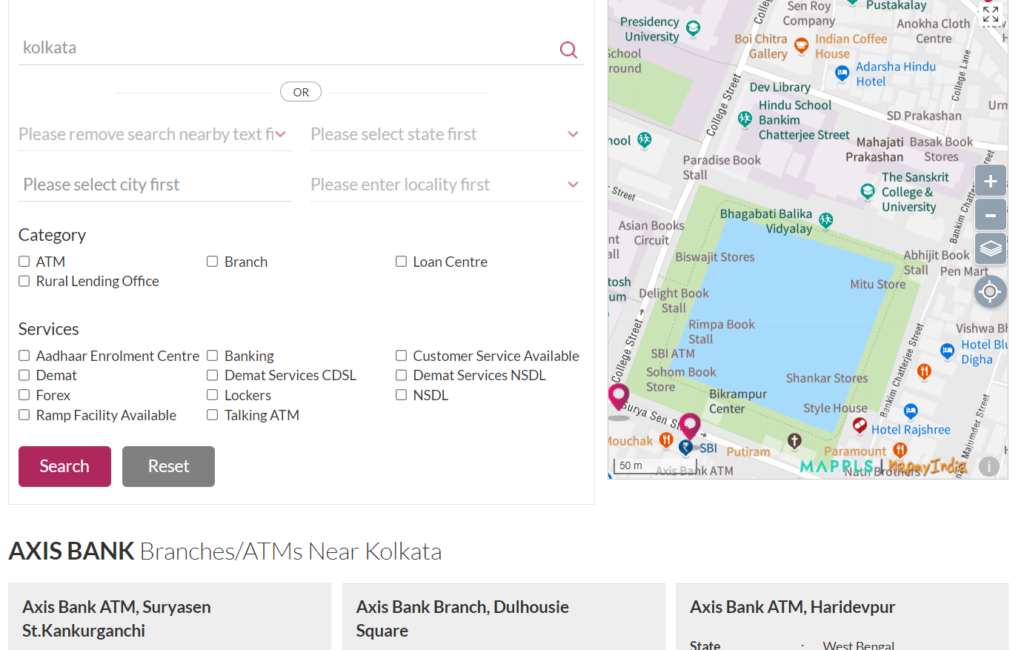 Pros
The IFSC Code is listed along with its location map.
Cons
Every bank don't have IFSC Code facially on their website.
Every banks have their own IFSC Codes but not all in one place.
Offline Ways to find IFSC Code
How to get IFSC Code from Passbook ?
Just open the passbook, the front page will have the IFSC Code of your Bank as shown in the below picture.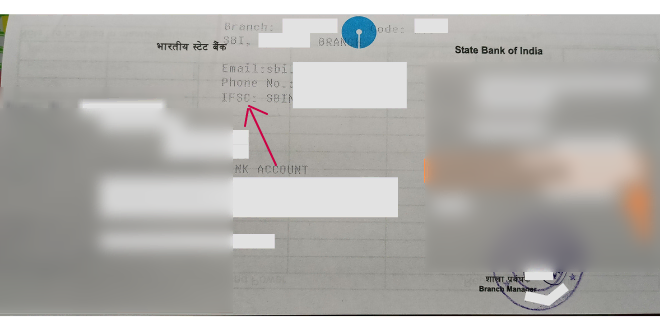 How to get IFSC Code from Cheque Book ?
After opening the cheque book look for IFSC at the top of your cheque as shown in the illustration below.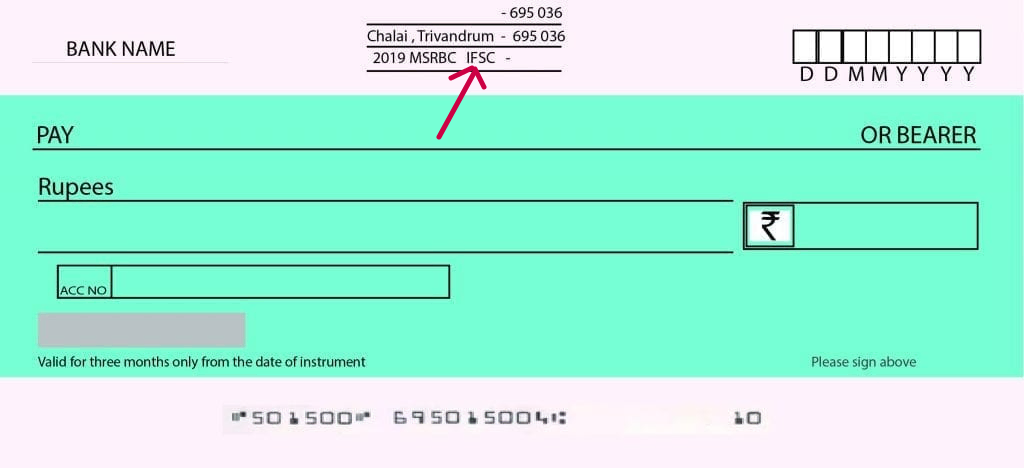 Limitations of IFSC Code for International Transactions
In short, IFSC Code is not designed for international transactions to process. Instead SWIFT Code is used. There are still some reasons why IFSC Code is not used are –
Regulatory Body – SWIFT Code is managed by G-10 central banks and that includes countries like Belgium, Canada, France, Italy, Japan, the Netherlands, the United Kingdom, and the United States.
Format of International Codes – The Format of SWIFT Codes are not same as IFSC Code, the IFSC Code only provides
Domestic Usage – IFSC Code is designed by RBI for domestic transactions all over India. It represents the bank branch and the bank's that exist in India.
Brief Description of MICR Code.
What is a MICR Code ?
MICR full form is "Magnetic Ink Character Recognition". It is a unique code that is printed on the bottom of the cheque or on other financial instruments to identify the bank and the branch where the account is currently present. The MICR Code is primarily used in banking industry to process cheques and other financial instruments.
How actually MICR works ?
So, to understand this we will not read a block of text but will go through step by step as how this process goes –
Step 1: Magnetic ink and specialized fonts are used to print characters on cheque that can be read by the magnetic scanners. The MICR Code is printed on the bottom of the cheque which includes routing number, cheque number and the account number.
Step 2: While the cheque is being processed, the magnetic scanner scans the magnetic inks printed on the cheque using magnetic fields and distinguish between the characters, interpret the meaning.
Step 3: The scanner uses a specialized software that compares the cheques characters with the bank's database and likewise approves or disapproves based on the funds availability on the cheque's account balance.
Step 4: To eliminate human intervention, the banking system uses specialized scanner and software to process large amounts and ample number of cheques within no time automatically with negligible error rate.
Structure of MICR Code Format.
Let us take an example MICR Code like – 400002505, it is a MICR Code of State Bank of India, State- Maharashtra, District- Thane, Branch – Thane West. This MICR can be divided into 3 parts
City Code – the first (400) represents city code that is Mumbai in this case.
Bank Code – the next 3 digits (002) represents the bank code that is State Bank of India for now
Branch Code – the last 3 digits (505) of the MICR Code represents Branch Code i.e. Thane West Branch
How to find MICR code ?
There are two ways primarily offline and online methods to find MICR Code –
Online way to find MICR Code
Banksforyou Tool:
The online reliable solution to get the MICR Code is from Banksforyou Tools Website. Just follow the way to get IFSC, with the same you can get the MICR Code just below that like the screenshot shown below-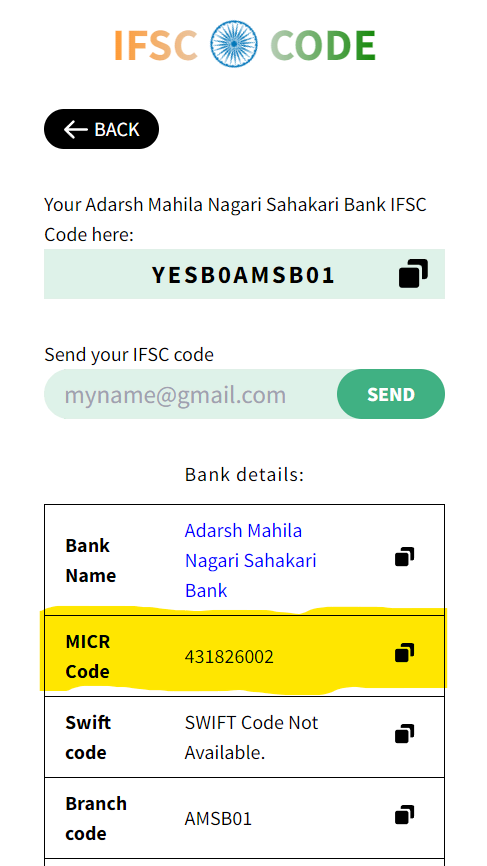 Offline way to find MICR Code
Cheque Book
The below screenshot with the highlighted one is the MICR Code at the bottom of the cheque.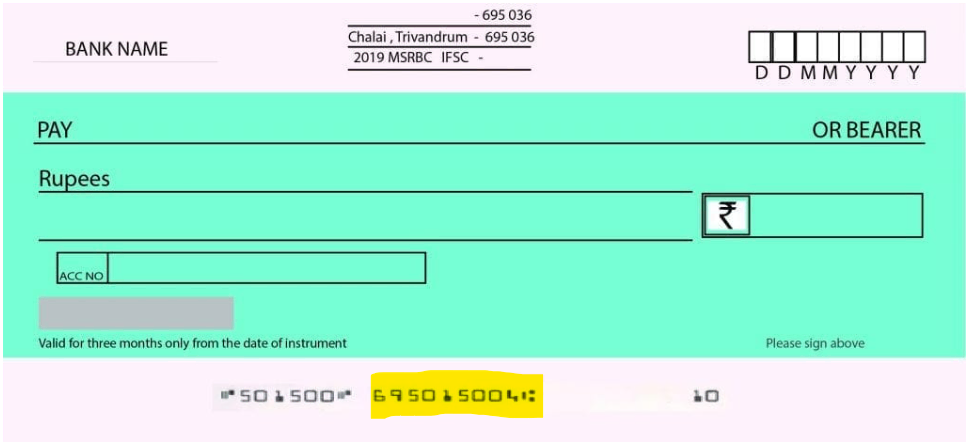 Where MICR is Used ?
MICR is used in clearing and processing cheques faster or on other financial documents. MICR technology is also used in automated clearinghouse (ACH) systems, which are electronic funds transfer systems used by banks and financial institutions to process large volumes of transactions quickly
This MICR system is recognized globally as standard.
Advantages of MICR Code
There are few some points to justify the existence of MICR Code –
It is highly secured way of transferring funds, it is printed on the bottom of the cheques using specific font using magnetic ink.
It is highly accurate and clearing cheques becomes faster.
Fake cheques can be countered and protects the banking system because of the MICR Code which has a specialized font.
Fewer no of rejected cheques as it uses magnetic ink which is processed by automated machines.
Disadvantages of MICR Code
Advantages have been discussed so far let's discuss some of the limitations or the disadvantages of MICR Code-
It is highly costly for smaller banks to setup as it requires special printers and scanners.
The printers and scanners as usual needs maintenance which is time consuming and adds the cost.
Special Trained employees also adds the cost as it is requires a person to operate and maintain who's specialization is based upon on this.
FAQ's