Introduction
FD in full is known as Fixed Deposit. SBI, the largest firm in the banking industry leading the govt banks provides its users with fixed deposits at high rates for it's saving account holder. It is really beneficial to apply sbi fixed deposit online without visiting the branch for any case, be with me and I will show you the way.
Youngsters should invest diversely, to keep a big fund for their future, not only young but there are eye attractive interest rates for senior citizens too.
Keeping everything aside there is some the requirement that needs to be fulfilled before you are good to go for this online fd account creation.
Requirements for applying sbi fixed deposit
Existing savings account required
Sbi account with internet and mobile banking enabled.
A good internet connection required
These requirements are recommended for users who chose to apply for sbi's fixed deposits. If your account is not enabled for internet banking, you can register online or can be created at branch.
Before you go and create an account directly some of the details should be known beforehand i.e the benefits, features, interest rates, eligibility, penalty charges, etc.
First starting with the benefits that it offeres
Benefits of using Sbi fixed deposit
High-interest rates than a savings account
Funds deposited compounded quarterly
High-interest rates for senior citizens
Easy renewable option
Online account creation in no time
As always there are some limitations for every product and services so, without discussing that would be a biased opinion
Limitations of using sbi fixed deposit
Accounts can be funded once during the account creation.
A minimum balance must be deposited i.e Rs 1000
Funds cannot be accessed directly, however can be redeemed before maturity with a penalty.
Next, the interest rates that you would get as according to your amount and preferred tenure. The rates are given below in the table form. All the interest rates provided are for the amount deposited under 2 Cr. investors.
Interest Rates
| Time period | Interest rates for public | Interest rates for senior citizens |
| --- | --- | --- |
| 7 – 45 days | 2.90 | 3.40 |
| 46 – 179 days | 3.90 | 4.40 |
| 180 – 210 days | 4.40 | 4.90 |
| 211 days – < 1 year | 4.40 | 4.90 |
| 1 – < 2 years | 5.10 | 5.60 |
| 2 – < 3 years | 5.10 | 5.60 |
| 3 – < 5 years | 5.30 | 5.80 |
| 5 – upto 10 years | 5.40 | 6.20 |
Table showing interest rates for sbi fd's
Penalty charged on withdrawal before maturity
As per the SBI website, no interest is paid if withdrawn within the 7 days from the date of investment and along with the charges that are applied are –
| Deposited amount | Charges applied |
| --- | --- |
| Deposits upto 5 lakhs | 0.50% |
| Deposits above 5 lakh and 1 Crore | 1% |
After several safety measures and a detailed understanding on why what and when, let's move to how to apply sbi fixed deposit online with using PC or phone.
How to create Sbi FD account online ?
When creating an FD account, a net-banking account is a must. The net-banking website can be accessed using this link – https://retail.onlinesbi.com/retail/login.htm
After that login using your username and password.
At first, this screen would appear when you log into the net-banking section of your sbi account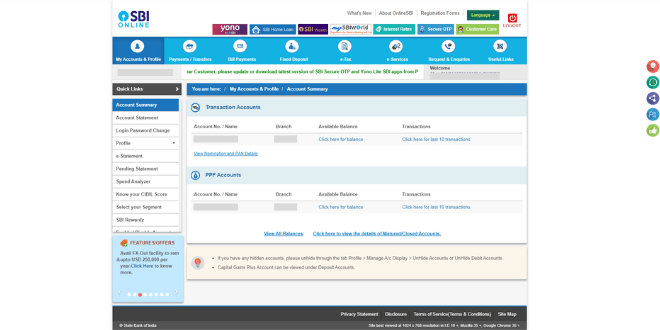 1. Click on the select the Fixed Deposit option and then click on the "Fixed Deposit(e-TDR/e-STDR)" option.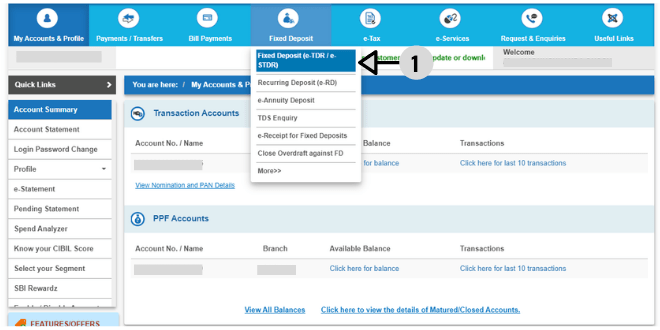 2. This Fixed Deposit option will be selected by default if not select the option
3. Click on the proceed option after selecting the right option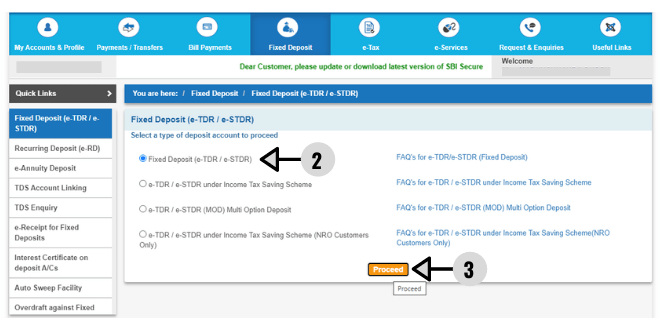 Here in this screenshot below there are many things to notice the first one is to select the savings account you want to debit the amount of the fd there can be many other types of account but select the saving account and to identify that account check the account type.
In this screenshot after selecting the account the account number will be shown too.
4. The amount field where you need to type the amount you would like to invest in the fd. As here, I have taken 1000 as a test to show you. Remember the minimum limit is 1000 but has no upper limit to invest.
SP. – This field is only for senior citizens only, as it provides extra interest rates on the amount invested. So, don't tick the box if you aren't a senior citizen.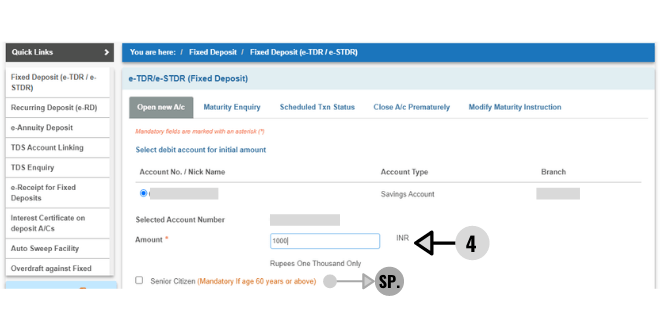 5. In this same page of the sbi page, STDR stands for Special Term deposit Rate this type deposit benefits the depositor as the interest is given at the end during the maturity. So STDR is chosen accordingly. You can choose TDR also as per your choice if you have a better understanding of this.
6. After clicking STDR a Tenure option will open up that has days, years, maturity date in short. But after clicking Years/Months/Days a selection option will open up.
7. Here I have selected for 1 year but you can choose as you like. In this chose how many years or days or months you want and select accordingly.
8. This option "Auto renew Principal and Interest" will renew the money invested on maturity with the same interest rate. However, you can choose the repay principal and interest manually.
9. Here the option appears because of selecting the 8. number option.
10. Now select the time up to which you want to reinvest the amount that you invested earlier after the maturity of the first investment.
11. Select to accept the terms and conditions.
12. Now click the Submit button and continue.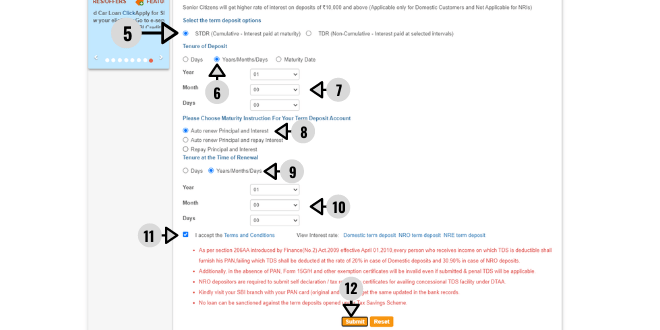 All the details will be shown on this page with all the details like account number from where the amount is debited from, branch name, amount, deposit type, time for which the amount invested, operation mode, interest type, interest rate, the amount after maturity, maturity amount in words, fund maturity date, and weather senior citizen is selected or not. Under the selected maturity instructions details what to do after maturity instruction, maturity time after the first maturity. Followed by the account owner's name and whether a nominee is set.
13. Click on the Confirm button to continue to the next finish page.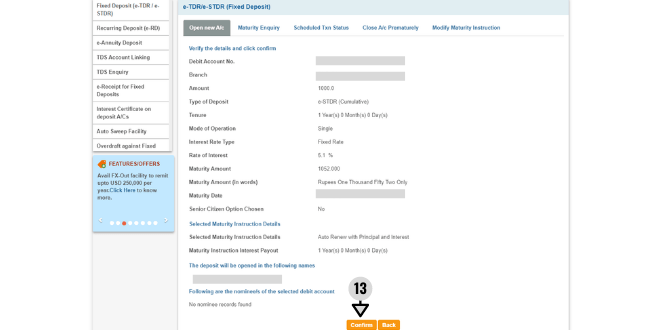 After this, a congratulations page will be shown and you can access your fd online afterwards.
FAQ
What is the minimum amount needs to be invested ?
Ans – 1000 Rs must be invested as minimum criteria and it doesn't have any upper limit.
Is there any penalty for pre-withdrawal of funds ?
Ans – Here the charges are discussed in brief.
Can a new bank user create fd account online in sbi ?
Ans – Yes, as long as he/she has a net-banking account associated with the bank account.
Can I do Fd online in Sbi ?
Ans – Yes, the full method is shown above.
How can I increase my Sbi fixed deposit online ?
Ans – There is no option for increasing the existing account's fund, however in the maturity instructions, the amount reinvested can be increased prior.
Is it safe to open FD online?
Ans – Absolutely yes, there is no difficulty because everything stays in your account from account deduction from your savings account to the FD account. Everything is alright until and unless you give your personal data to any person.
What are the documents required for FD ?
Ans – If you have a net-banking account you a step ahead of other's who want to create fd account online. Other document details are listed here in details.