SBI, the largest bank that has many problems with its awesome features that competes with the private players with a large user of India.
They have a large responsibility and not be blame them but it's improving day by day. And somehow I have also crossed into this problem however, I have a fix for this.
No worries your money is safe always just in case you're too worried to visit your home branch with your passbook and check and also can get the answer there too.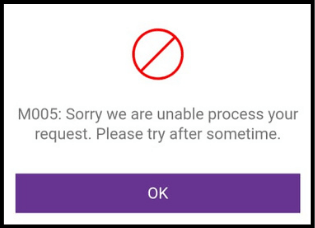 But here I am for the online users where there is no SBI home-branch of the individual, just in the case say no bank branch you can try these life-saving tricks to fix this.
Not to forget we are here about "M005: Sorry we are unable process your request. Please try after sometime" problem.
Now, this problem occurs only on the YONO app especially might be only on it and not might be on the lite version.
Also Read:
When this Error Occurs:
This M005 error occurs during logging into the YONO app while using the mPIN. However, it's yet to determine if the problem still occurs without mPIN and not using the username & password.
This also occurs when the server is overloaded with the highest number of users at the same time on the App.
Ways to Fix, M005 Problem efficiently –
Fix 1:
Quickly exit the app by clicking the back button.
On an extra note, you can remove the app from the RAM usage too.
Fix 2:
You can as an alternative clear the cache and start the app again.
Fix 3:
Make sure you're using the latest version if not then update the App.
Fix 4:
Lastly, if that doesn't work then uninstall the App completely.
Download the App from Play Store.
Conclusion
At my highest knowledge on this problem, I figured out some of the fixes and it's not only the ultimate solution but you can visit your home-branch too if you are not sure or can't go through these solutions.
To be honest, my problem was solved using the Fix 1: solution. And the other ones are not that innovative but can be said alternatives if the first one fails to solve your problem then move to the next solution.