Introduction:
IndusInd bank being a private bank, it's a really unexpected situation for a new bank account owner to think about maintaining a zero balance in his/her private bank's account and more if it's created easily online without visiting the branch.
IndusInd is also famous for providing its users with a customized account number. IndusInd was established in 1994.
With over 2 million visitors on their website, they have stabilized their online system. Beginning with the features.
The features that IndusInd provides exclusively to it's zero balance account users is here like –
Custom bank account number digits
No minimum balance required
Customers get access to free Rupay Card to use at ATM's
Free fund transfers
Free passbook and checkbook
There are many benefits to opt-in IndusInd bank, but without telling the limitations could be an incomplete piece to digest for the readers. So they are-
Upto 5 transactions on ATM and branches in a month.
Annual fees may be applied to the ATM card as per the bank charges.
More than 5 transactions can convert zero balance into a regular savings account and a minimum amount needs to be maintained or a penalty will be applied.
It requires an initial deposit but can be withdrawn after the account creation.
Now the next part is who actually can create zero balance account in IndusInd bank and what is the eligibility of this scheme, here are the details below –
Zero balance accounts are not for NRI's
The account owner needs to be at least 18 years old.
Charges that you need to know before creating this account, as this article involves creating an account online, the exact amount needed to be present in your another account to transact such as –
Instant Funding – Rs 20,294 (Debit+Initial) Withdrawal amount – Rs 2,0000 [zero balance]
Premium Debit Card – Rs 1,180 (Debit) Withdrawl amount – Rs 0 [zero balance]
Indus Privilege Online – Rs 10,294 (Debit+Initial) Withdrawl amount – Rs 10,000 [regular savings]
Download the charges levied on all type of transactions, get this PDF copy to know more.
Let me tell you to arrange all the documents beforehand so that you can arrange these beside to create your zero balance account instantly online.
Aadhaar Card Number
Pan Card Number
Phone number
Account number of your choice (chose in mind)
---
After knowing all about the IndusInd bank details on zero balance account, there is another query on what is the interest rates that it provides? and the answer is upto 3.75% per annum as usual.
Please read all the steps carefully below to create an account successfully with IndusInd Bank online-
Visit the website first
After visiting IndusInd Bank's small account page.
Selecting account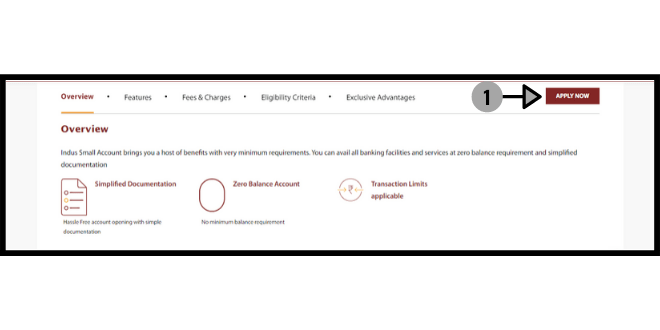 1.Click on the button "APPLY NOW" and you will be redirected to next page.
Creating/login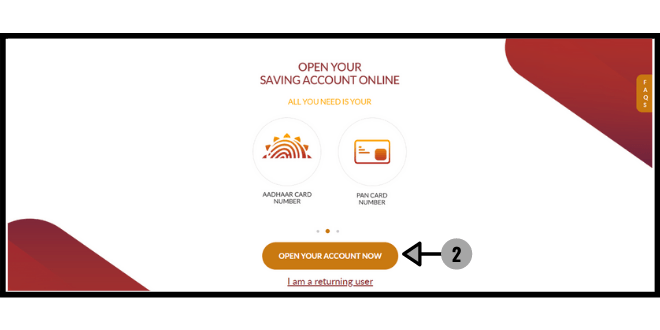 2. Ignoring all the button and only chose "OPEN YOUR ACCOUNT NOW" to proceed.
Note: Before you proceed to have to have these documents like the Aadhaar card and pan card.
Account number of choice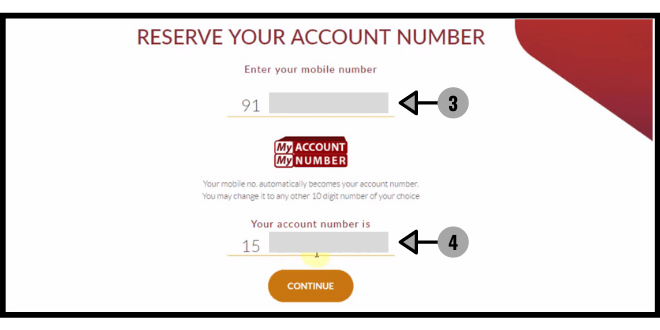 Here is the main step that you can't afford to skip because this absolutely depends on you like the
3. "Enter your mobile number" is the field where you have to provide your 10 digit phone number which has your access like where you can get the OTP instantly.
4. "Your account number is" field where before choosing 15 is mandatory before the account number. Also, the account number limit is 10 digits and is mandatory-you can also choose your phone number as account number if available.
Click on "CONTINUE" after reviewing the details above written.
Verification of number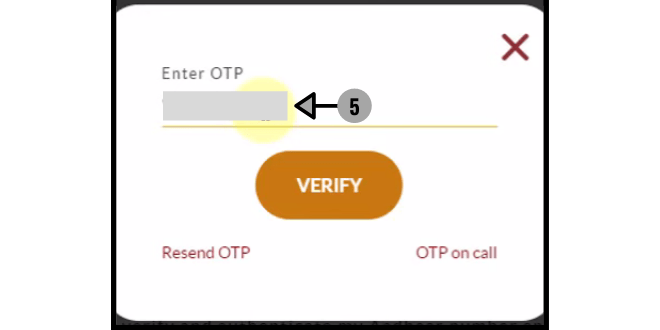 5. Simply put the 6 digit OTP that you received from IndusInd bank and click on "VERIFY" to add the phone number to this account.
Enter the Pan and Aadhaar number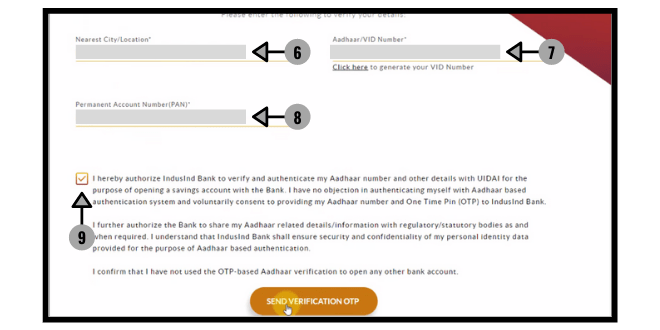 Here in the the above screenshot, there are 3 fields to be filled such as –
6. Type your home location and the bank will figure out it's nearest branch to you.
7. Here either you can provide your aadhaar number of the virtual id of the aadhaar if it's made go for it otherwise type the original aadhaar number. The click here button can redirect you to create a virtual id but if you don't want any trouble then type only the aadhaar number.
8. This PAN card is required and any individual who is above 18 years can avail this as said earlier.
9. Check the box to agree to the policies and regulation that bank has and this is mandatory.
Click on the "SEND VERIFICATION OTP" to get the otp to be typed.
Verification of Aadhaar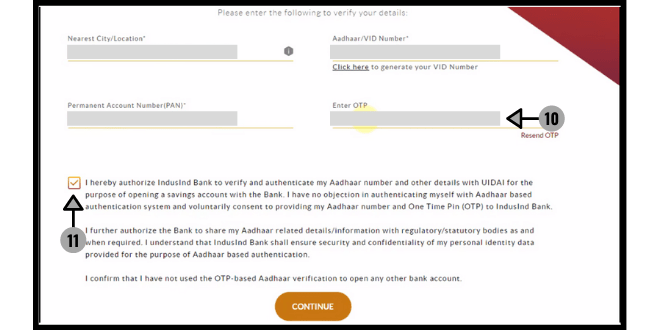 10. In this field, the phone number that is linked with your Aadhaar Card, the OTP will be sent to that number for Aadhaar verification. Type the OTP in this field.
11. Again check the box to continue to click the button below.
Click CONTINUE button
More easy details to be filled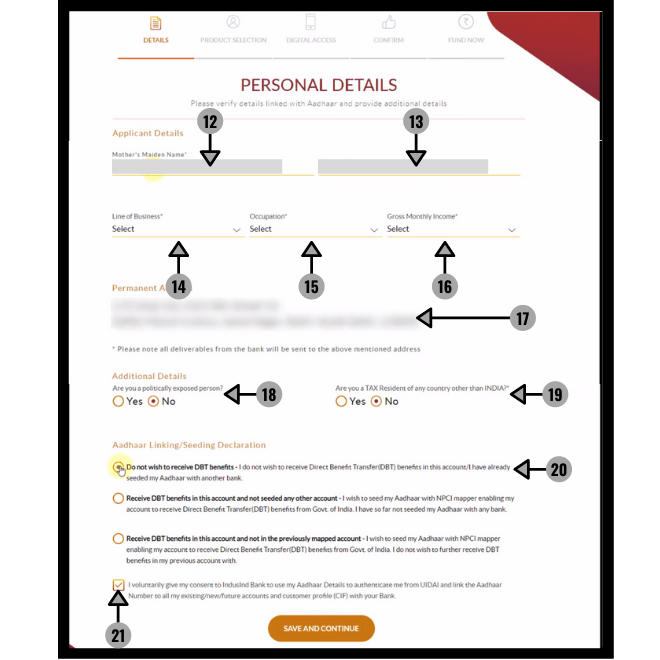 Please fill your email and marital status as married or unmarried. Next fill the details that you find in the above screenshot and I will definately find you as i have numbered them as how to fill them.
12. Type your mother's full name before marriage.
13. Type your father's name you might in any of the document like in the PAN or Aadhaar.
14. Select what is type of business you do.
15. Select weather you are a self employed or professional,student or a housewife.
16. Select how much you earn and don't then select upto Rs 10,000.
17. Your Permanent Address will be reflected from your Aadhaar Card that you typed earlier.
18. If you are an politician or related then select yes or as an normal citizen select no.
19. As normal you might not be an tax resident other than India, tick No
20. It refers to the DBT subsidy that you can get, do you avail that in your IndusInd bank then you can change too but here we won't trouble ourselves going into this and select as Do not wish to receive DBT benefits.
21. After reviewing all the details, tick the field to continue.
Click the SAVE AND CONTINUE button to save all the details.
Nominee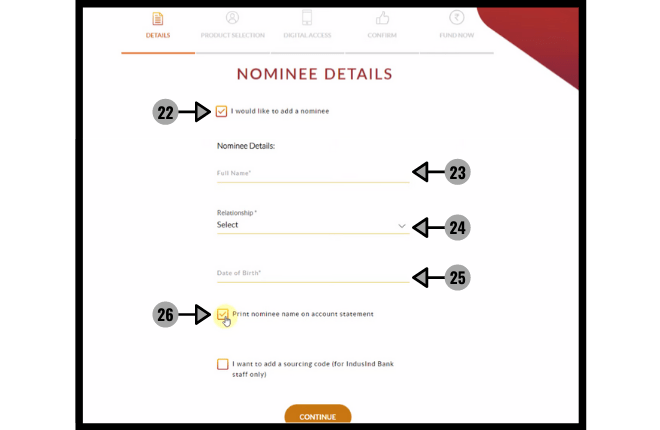 22. Tick the box if you want to have an nominee for your account means after the account owner's demise, the nominee can take over the account.
23. Enter the full name of the nominee can be found in pan, aadhaar, passbook or from any other document.
24. Select weather the nominee is your son, father, mother or Daughter anyone.
25. What is the date of birth of his/her's date of birth select that out.
26. If you want to print the nominee's name on the passbook or any type of statement like mini statement etc, tick the box.
Click CONTINUE button after reviewing all the details filled for nominee.
Select type of account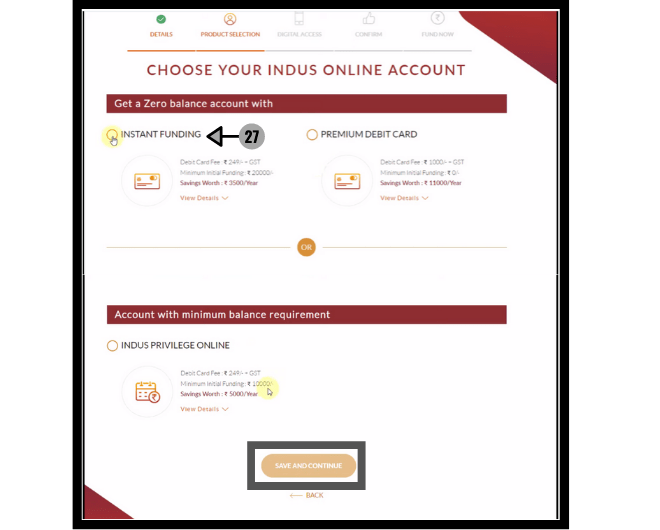 Here the Instant Funding and Premium Debit Card are the zero balance account both are same but have different pricing like if you opt in for instant funding you need to pay for (249 + GST) and the initial funding you pay Rs 20,000 is refundable means it can be withdrawn anytime without any fees and the next one don't have any intial payment so no chance to withdraw and the debit charge is (1000 + GST).
Next one, the Indus privilege online is a regular savings account, so the fees are applicable if a minimum balance is not available.
27. The first one we only need to pay the 249 +GST so maybe the initial payment is high but refundable also. So select this and SAVE and CONTINUE.
Digital journey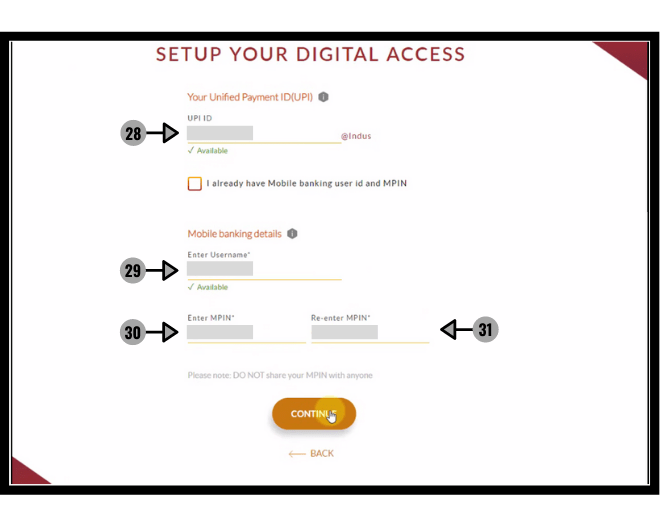 28. Here, UPI id can be as according to your choice where only words are possible like iop, jekob, or your first name anything whichever is available. This is used to send or receive funds using UPI enabled apps.
29. Any name can be used as a username also like banksforyou or anything or one of your pet's names if available.
30. This required to login into mobile banking to access your account online. Enter 6 digit pin (in number)
31. Repeat the pin used in the 30th field.
Click the CONTINUE button.
Payment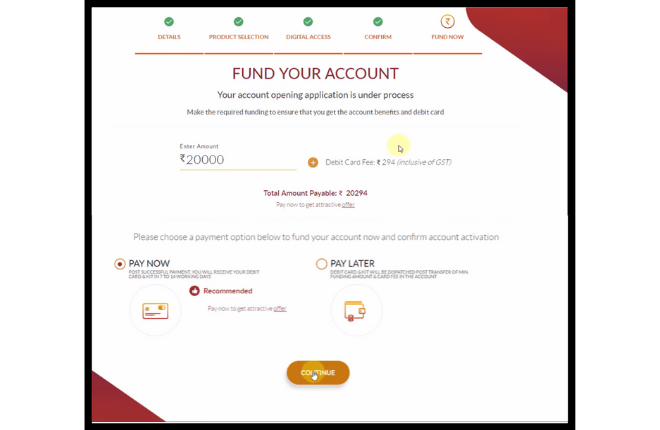 All options selected by deafault as well and you need to pay the amount of Rs 20,294 through net-banking otherwise you can chose PAY LATER option, I personally don't have any experiance this this option but likely you have to pay the amount when it's accessible and the debit as well as the initial funding would be deducted for the first time and the rest amount could be withdrawn.
Click on CONTINUE and the next page will show the relevant details.
Next click PAY NOW option as this offer page doesn't show every time and it's straightforward without doing anything, so the screenshot is not provided.
Finished stage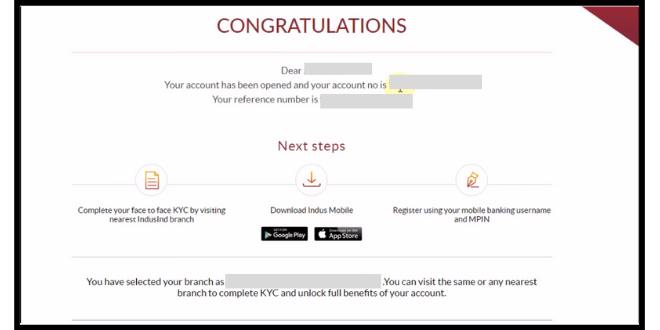 All the essential details like name, account number of your choice and the reference number along with the address would show up, the debit and the passbook will be on the way.
You can also enable 100% of the benefits of the account if you verify KYC at their nearest branch, but it's OK at-least for now.
Conclusion:
In short, if this full article is followed perfectly, there would be no problems while creating a zero balance account.
This tutorial is fully explained in step by step, however if there's any problem you can comment or check the FAQ section to quickly solve your question.
FAQ
Q. What is the IndusInd bank's zero balance account charges ?
Ans – The answer can be found in this section.
Q. Is the initial fund can be withdrawn ?
Ans – Yes, the initial fund is 100% withdraw-able and that also without any fees.
Q. How many transactions are free on IndusInd zero balance bank account ?
Ans – For non-cash transactions like Balance Inquiry, PIN Change, and Mini Statement it's 5 and thereafter Rs 10 would be charged per transaction and for the cash transactions it's 4 and thereafter at Rs 20.
Q. What are the documents needed to create a zero balance account with IndusInd bank ?
Ans – It's simply an account owner should be 18 years old as it requires a PAN card and an Aadhaar Card which everyone has. Otherwise, all the details are shared here.
Q. What are the features of the IndusInd bank zero balance account ?
Ans- Such features are briefly discussed here on this article itself.