Yes, also this can be disabled, the feature works for the union bank users. Customers can call 1800 22 2244 to avail of this service from home.
Just some of the documents need to be mentioned and it would take at least 24 to 48 hours to process.
The information that the executive asks for such as –
Debit Card's account number and name
Address
Bank linked phone number
However, this can be illustrated and it's here below to show you the steps.
Also Read: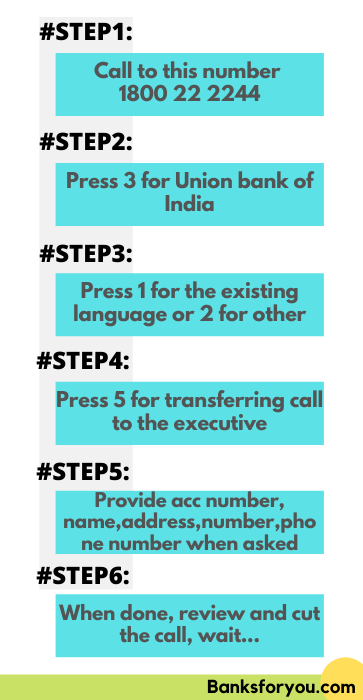 Or
If you don't want to have this confirmation on the phone call to the executive. Please visit the nearest branch and ask them for the same issue to solve and carry your passbook along with.
NOTE: After calling the executive they might ask you whether you use the U control the app by Union bank and that's absolutely for the credit card customers and if you are a debit card user please follow the steps given above.
Q. Are there any charges for deactivation ?
No, there are no extra fees to be submitted to deactivate the existing internet transaction feature from the account.
However, note that after deactivation, the bank would not charge any extra fees that they used to charge earlier for the service activation.
Q. Should I deactivate the international transaction feature ?
No, the services and products delivered are mainly online based and it's necessary to opt-in this service to clear any immediate requirement. There are many features that makes this service really beneficial like –
If you are an creator like a YouTuber or Blogger, buying international hosting and purchasing goods for reviews.
Transferring balance directly to others and more.
However, if all the requirements are with India then, there's no need and you can deactivate this. Note, other extra charges are only charged when a transaction made outside India.
Q. Can credit cards be deactivated using this ?
Yes, customer having credit cards can have their international transaction activated but U-control can handle this request using their official app.
Here is a link to the UBI's website where it's told to download the app and deactivate from there.
Q. Does this service cost extra when activated ?
As per official website, there's no mention of fees that is charged even if not used. And can be considered as free only. But having a debit card charges annually for this service.
So, if none of the transactions made outside India there's no charge. If you want a clear understanding of the charges visit the source.
Q. Will my internet purchases be disabled completely if this is deactivated ?
No, this feature is only for Internet banking enabled users so that they can purchase online even outside India. This feature will only stop you from purchasing items or services that exist outside India.
Indians participate as 2.2% of the digital purchases that are made worldwide and so this option is recommended to be activated before as it's not a pre-activated service.