SBI is one of the biggest and comes under the best banks in India, not because of its assets but because of a range of services they provide for each kind of customer. Being a government bank, SBI worked hard to reach the highest standards of products and variation of services.
And among these checkbook request isn't that unique to UBI itself. But what differs it with the possibility of giving the flexibility to the customers to request these with multiple methods such as using net-banking, yono app, and SMS.
Holding these methods to order/request cheque, we need to know how to request cheque using SMS and that's the easiest method I can see right now without even having a net-banking or mobile banking account. For senior citizens, this is the most efficient way.
Now, why only this method as you know if an SBI customer doesn't have a net-banking account almost impossible to request which left us to this SMS option only if we avoid visiting the branch. Even, in immediate need to order cheque no need to log-into the account. Moreover, no need to install any app too.
Requirements for opting this service
Your account must be a Cheque facility account enabled beforehand
Your phone number must be registered with the primary account
Your Sim must have a minimum balance to send a message
The SMS must be sent from the registered mobile number
Benefits of using this SMS service
More flexible to use
Available 24*7
More secure alternative
Can be requested from any type of mobile device
How to request for a cheque in SBI using SMS ?
First, register your account first to avail of the SMS banking services type REG in the message field then space, your account number, send this to 09223488888 from your registered mobile number. As an example like this REG 32879087489 to 09223488888.
Discussing how to request step by step
First of all, ensure that the requirements are met as said before in this article.
Type CHQREQ in the text field and in the To: field type – 09223588888 this will send the first request and don't forget to send it from the registered number.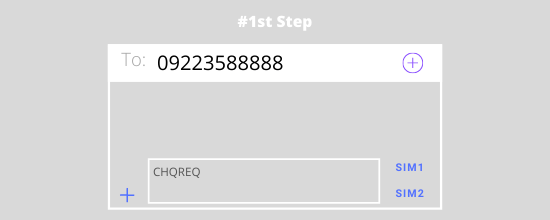 3. Now after sending the previous message wait for some second and a message with an OTP and reference number will be send to your registered mobile number like the one you can see in the below illustration.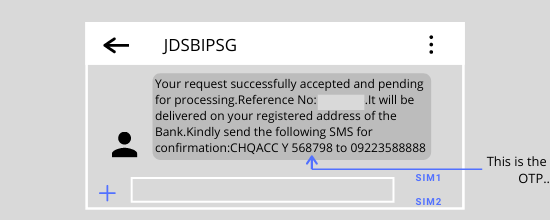 4. Next is to send a message in response to this message i.e CHQACC<space>Y<space>Your 6 digit OTP and send it to 09223588888 which means in place of <space> use a single space to the each mentioned word and a group of number.
Also, note that you type the OTP that you received on your number and not this that I got. And also make sure to send this message within 2 hours from receiving the earlier OTP message to start the processing.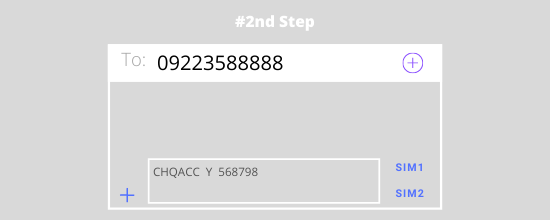 5. After Sending the message, a successful message will be sent to your registered number, informing you about the success of this process along with a reference number.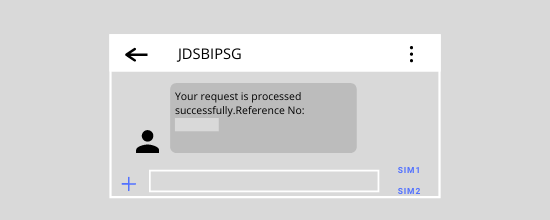 Q. What is the error "Currently this service not available for your A/C"? How to fix it ?
Ans – When your account shows such error it means you need to visit your home branch to convert your Non-Cheque Book facility savings Bank to Cheque facility account by submitting a written application.
Q. What are the charges for chequebook ?
Ans- First 10 leaf cheque is free of cost however, thereafter 10 leaf @₹40 and 25 @₹75 both excluding GST. And free for Senior citizens.
Note: For multi-city cheque book
Q. From where the cheque price be deducted if it's by SMS ?
Ans- The bank never receives the cash directly but rather deducts the amount from your bank account itself, It only in case of SMS.
Q. How can I get SBI Cheque book immediately ?
Ans- Unfortunately, the non-netbanking users cannot avail of this service from their home however on a written application for obtaining a chequebook in an emergency.
It costs more but can be obtained if the customer visits the branch.
Q. What is the validity of cheque in a chequebook ?
Ans- The validity is 3 months from the date of issue and for a piece of brief illustrative information follow this page.