Most people search for checking their balances but for the Debit Card. However, even if it's a small population holding HDFC Credit Cards who also want to check their balance on a regular interval to keep an eye on it.
Credit Cards, issued by the bank to the customers, this helps the customers pay for any expensive items even though they don't have balances in their savings account.
Credit Card's most useful feature of it and also with this you can automate your billings like electricity, gas, or any mobile bills. Also, this is only provided to the customers who have a good credit score previously and also should have a source of Income.
Not only the balance but your spending history, limits, and other configuration can be done using the net-banking and the App.
This article is especially for HDFC customers who are holding Credit Cards with them. And I would definitely write this article straightforward. Flexible ways of checking balance HDFC bank provides it's customers with various options.
Let me discuss the ways below –
Check the balance in HDFC net-banking
Balance check-in HDFC's PayZapp App
Check the balance by sending an SMS
Balance enquiry through missed call
Balance check-in ATM Kiosk
Except for the ATM Service, all of the above services listed are available for 24*7 but in SMS, a registered number must be linked before checking credit card balance.
And also the Net-banking and the PayZapp App can be used only by the net-banking enabled customers. However, the balance can be checked by, entering the credit card into the App for checking balance.
Also Read:
1. Check balance using Net-banking service –
Step -1 First of all starting from the beginning log into your net-banking HDFC account. Here is the link – https://netbanking.hdfcbank.com/netbanking
Now log in using your user id and login password.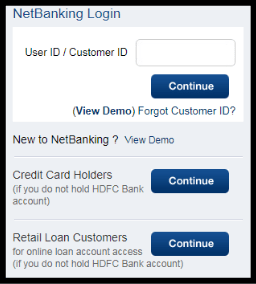 Step-2 Now after login into the dashboard, look for the "Cards" option in the top bar as shown in the below screenshot.

Step-3 As shown in the below screenshot the Credit Card Account's total unbilled amount will display here.

---
2. Check balance using PayZapp App –
Step -1 Now after logging into the PayZapp App look for the bottom section and click on the More as shown in the below screenshot.

Step -2 After clicking the More option upper options will be opened up, look for the Credit Card option and click on it.

Step-3 Voila! Now your Credit Card Number and the available Credit can be seen on the next app's page as shown in the screenshot below.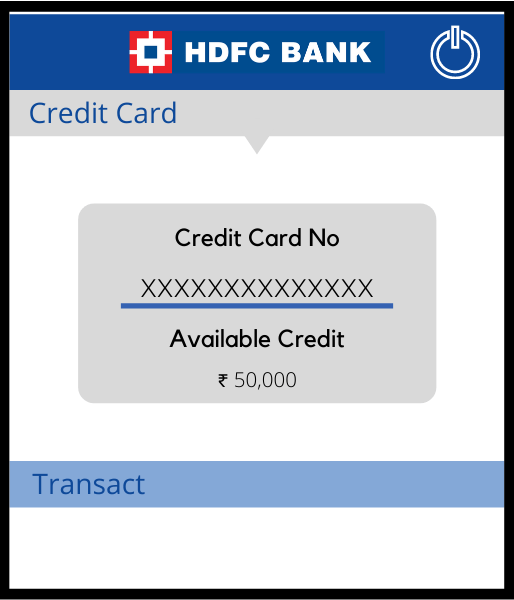 3. HDFC Credit Card Balance check by SMS –
The most effective way to check your credit card balance is by sending an SMS from your registered mobile number.
A simple SMS can save a lot of time for a credit card holding customer. Also, this method is so-effective without visiting branch the non-net banking customers can know their balances left and the limit in real-time.
Now firstly to check the balance left in your credit card send this SMS from your registered mobile number –
CCBAL last 4 digit of your credit card number and send this message to 5676712
Now to check your credit limit send this SMS –
2. CCACL last 4 digit credit card number and send this to 5676712
Note: This service is chargeable and can not be availed if not registered prior to this operation.
4. Balance enquiry using missed call –
Have I told you something weird before this and that's about the SMS, its the efficient but now it is perfect and free.
This service is also available for the credit card holding customers who have neither access to net-banking and don't know how to send the SMS. In short, the easiest for anyone to perform.
Here is the phone number –1800 270 3311 for the balance and other information. An alternative to this is another number – 1800 425 4332
Just give a call to any of this number and then cut the call.
5. Check balance using ATM Kiosk
While being outside the home and suddenly it comes to your mind after a payment made through a credit card, What is the balance remaining?
No worries as HDFC has over 14k ATMs all over the country and it's still growing makes it easier for HDFC customers to know or to withdraw their balances immediately and is easily reachable.
Here is the process follows one after another –
Insert your Credit Card into the slot.
Enter the PIN using the ATM machine's keyboard.
Among various options look for Balance enquiry among the options and check the balance.
---
Q. Is there any separate App for checking Credit Card Transaction ?
Ans – No there isn't however every detail and banking can be done using HDFC Bank's official App PayZapp.
Q. How to check HDFC Credit Card balance without having net-banking account ?
Ans – There are two alternative ways to check balances –
1. By sending SMS
Check balance
CCBAL last 4 digits of your credit card number and send to 5676712
Check credit limit
CCACL last 4 digit credit card number and send this to 5676712
2. By missed call
Primary number – 1800 270 3311
Alternative number – 1800 425 4332
Note: Both require a mobile number to be registered first with the bank account.
Q. How to check the HDFC credit card balance without having an account but with a card ?
Q. How to check the credit limit by sending SMS ?
Ans – check your credit limit by sending this SMS –
CCACL last 4 digit credit card number and send this to 5676712