Union bank as said in one of my articles best government banks in India is the most underrated and stable bank but fully stuffed with features.
And this is obvious that you have come here to check your customer id as it's an important id that we need while transferring funds or adding our bank account to a third party service. We cannot clearly tell that it's a requirement for a thing and not in other services.
I think every individual here is with their union bank net-banking account. If not doesn't matter let's solve what you have come here for.
There are many ways to find customer id using net-banking too but what is about for non-net-banking users and it's not always possible to take out username and password and log into net-banking so as to ease this process I will cover up how to get the customer id without visiting the bank.
What is a Customer Id in a Bank ?
Customer Id may contain letters and numbers altogether in some other services in banking it only contains numbers which is assigned by the bank and is unique to each customer, used to identify a customer.
Also Read:
How to find customer Id in passbook ?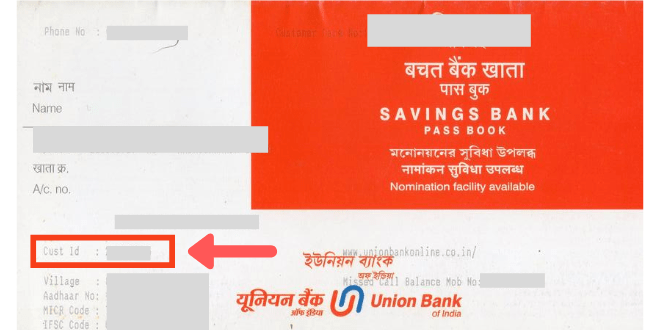 The above picture shows the cover of the passbook where the cust Id is shown.
If you have the passbook in front of you, without opening the passbook, at the front Cust Id could be found which is customer-id.
For a more surety, the customer id consists of 9 digits in union bank.
How to find customer id using customer care service ?
First of all, call this number 1800 22 2244
Listen to the new menu and click 3 in number pad for union bank
Press 1 for Hindi or press 3 for other languages.
Press 5 and the call will be transferred to the executive.
Now, tell about what you want to know i.e customer id and the call continues.
Provide the caller with one of the documents which are linked to your account, Account number/Email/Mobile number/Addhaar/PAN
After that, the customer Id will be provided to you.
This process is a bit time consuming but if you don't have a net-banking or passbook in front if nothing makes it easier than this at least you can avoid visiting the bank for such a small easy task that can be done easily.
How to get customer id by visiting Branch ?
There are many questions and also answers regarding this but we will go straight and easy if you have passbook its easy otherwise when you visit your branch please carry these items with you-
Your Bank account Number
Name, Age and other details like father's name, mobile number for verification
Aadhaar Card
The bank staff will surely help you in getting that customer id of your bank account easily.
Conclusion
At last, if you have any doubts regarding this, do comment and let me know if I can help anyway. As this blog is always to help out customers to avoid visiting the branch unnecessary and also to avoid the line.
For more you can call the union bank for more info, customer id is different from the user id that you get in internet-banking.
FAQ