As always I have said in my all SBI articles that SBI is one the largest bank in India but not only that but a most important bank too because millions are connected to it and maintain their financial assets.
Often banks too think such small details like how to see mini-statement in their app isn't that necessary but that's wrong in case of largest banks because small problems are a pain for some lakhs of people and here in this I will definitely solve your query.
I am definitely not going to describe all the methods to check your SBI balance or mini balance. Here its all about the YONO app.
I would strongly recommend you to try checking out these related articles too:-
YONO is the most downloaded app among the Indian Bank's apps not only because it has a large user base but because of its facility.
You will know more as you use it and Banksforyou is there if anything goes wrong however there isn't any security risk.
Let's not waste any time and get into the solution.
Mini-statement is the mini version of the passbook which only shows the transaction type like the transfer or deduction from, followed by debit and credit details.
It can be generated online too even on your phone using YONO in case you're an SBI customer.
Now here the generated statement can be downloaded into mobile's storage or you can easily send it to your registered email linked with the SBI account.
To check the full detailed step also make sure you read carefully also along with the screenshots to provide a better understanding.
And all this in 3 steps.
How to get mini-balance of SBI account in YONO [step by step] ?
First, to check the mini-balance it's a compulsory or a definite requirement to have a mobile banking account in SBI YONO.
And that's a free service every bank offers either the net-banking or mobile banking just to create.
After creating the mobile banking account in YONO, open the app and head over to the Accounts as you can see in the below screenshot which is the main screen after entering the mPIN.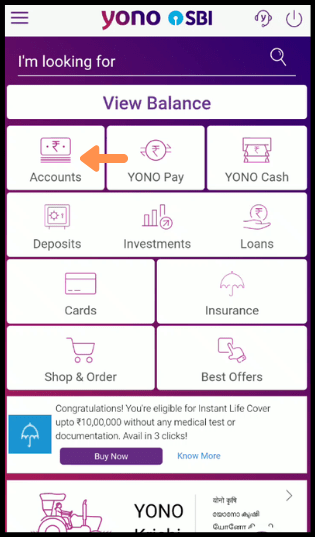 2. Now after opening the Accounts, RELATIONSHIP OVERVIEW window will open up where all your accounts will be shown like the savings, current, ppf along with other accounts that are linked.
But to see you have to select any one account and I have selected a savings account here.
Also, note that in My Balance your savings account is present and in My Deposits all your accounts that are locked like the ppf accounts and other accounts.
Do not worry account type is shown there so you can double-verify before checking mini-balance. Click on the > button to continue to check the statement.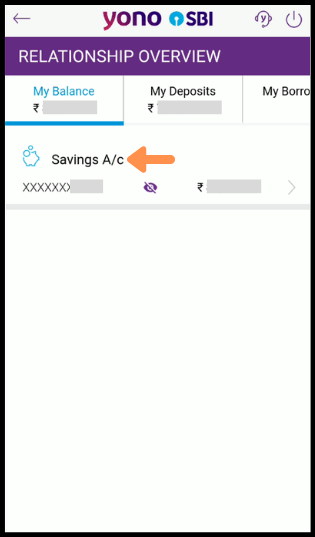 3. After that a TRANSACTIONS window will open where you can see directly the recent transactions debit/credit.
Now here either you can see the transactions directly or either you can send the generated to the email or either you can download the file.
1. ✉ is the option for emailing the generated statement to the registered email id. It is useful for having a record there to access anytime without opening the app.
2. And the icon beside the email option is for downloading the statements into your mobile storage. That's it, simple.